Top 10 Breakthrough Sundance Films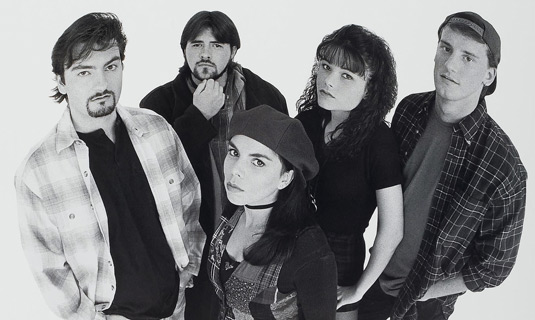 The Sundance Film Festival is famous for being one of the premiere places in the world to find the future stars of independent cinema. From directors to actors to documentarians, the artists involved in the following ten movies came to Park City with big dreams and left with promising careers. After they went to Sundance, their lives—and the world of film—would never be the same again.
1. Sex, Lies, and Videotape (1989)
The remarkable critical and financial success of this low-budget indie represented not just a breakthrough for its director, Steven Soderbergh, but also a breakthrough for the Sundance Film Festival itself. Sex, Lies, and Videotape premiered in Park City to widespread acclaim and then went on to conquer the world, helping build the festival's reputation as a place not just to see great films but to discover great filmmaking talent.
2. Reservoir Dogs (1992)
Before Reservoir Dogs exploded at the 1992 Sundance Film Festival like a bomb filled with blood, guns, profanity and clever pop culture references, Quentin Tarantino was just a guy who'd worked in a video store and seen a ton of movies. Afterwards, he was Quentin Tarantino—the guy who'd worked in a video store, seen a ton of movies and used all that knowledge to make one of the coolest films ever. He never looked back.
3. Slacker (1991)
Sometimes breakthroughs require a little perseverance. Richard Linklater submitted a rambling, three hour cut of his iconic indie about his hometown of Austin, Texas to Sundance in 1990—and promptly got rejected. He edited the film down and resubmitted it, and when Slacker
4. Clerks (1994)
It's one of the famous stories in independent film history. Kevin Smith sold his comic book collection, maxed out his credit cards, and spent $27,000 to make a movie in and about the Central New Jersey convenience store where he worked. The film not only introduced Smith's unique filmmaking voice, it gave hope to thousands of likeminded, underfunded geeks all over the world.
5. Saw (2004)
Sundance 2004 was the breakthrough of the grisly horror movie that helped launch the torture porn genre. As the story goes, Lionsgate planned to release the film straight-to-video until the movie went over like gangbusters at Sundance. Director James Wan and writer Leigh Whannell kept carving their way through the industry; their haunted house film Insidious was the most profitable movie of 2011.
6. Napoleon Dynamite (2004)
Audiences ate up this quirky story of a high school outsider like a big bowl of llama food. Director Jared Hess went on to make Nacho Libre and Gentlemen Broncos and Napoleon himself, Jon Heder, became a comedic leading man. They then reunited for Napoleon Dynamite, the cartoon series. Overall, a pretty sweet deal.
7. Hustle & Flow (2005)
It might be hard out here for a pimp, but the rabid success of this film about a street hustler and his dreams of hip hop stardom, made life a little bit easier for its director, Craig Brewer (Black Snake Moan, Footloose), and star, Terrence Howard (Iron Man). The film not only brought Brewer and Howard some much-deserved attention, it also won an Academy Award for Best Original Song.
8. Thirteen (2003)
Catherine Hardwicke was already a successful production designer when she came to Sundance in 2003 with her directorial debut, Thirteen. After her controversial tale of teen angst became the talk of the festival, her young stars, Evan Rachel Wood and Nikki Reed, became Hollywood fixtures, and Hardwicke herself became a sought after director.
9. Super Size Me (2004)
An all-McDonald's diet might have been bad for Morgan Spurlock's cholesterol, but it was great for his career. Spurlock's autobiographical film about his 30 day Mickey D's binge and the dangers of fast food established him as a witty documentarian willing to put himself in harm's way to prove an important point.
10. The Foot Fist Way (2006)
This dark comedy about an inappropriately cocky Taekwondo instructor earned less than a half a million dollars at the box office, but it caught the eye of Will Ferrell and Adam McKay, who helped put director Jody Hill and actor Danny McBride on the path to Hollywood stardom. They later reteamed for the hilarious television series Eastbound and Down.
Wish you had made it to Park City? Take a virtual visit to the Sundance Film Festival.