The World Keeps Changing but the Importance of "Out of Africa" Does Not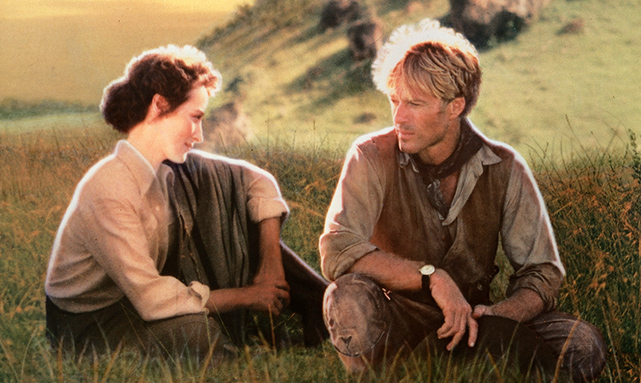 In one scene, deep into the 1985 adventure romance Out of Africa, Baroness Karen von Blixen (Meryl Streep) has her dear friend Berkeley over for dinner, where he cleverly warns her: "When the old mapmaker's got to the edge of the world, they used to write, 'beyond this place, there'll be dragons.'" It's a sly warning and a great line, delivered in the setting of Blixen's deliciously well-appointed living room.
Berkeley is cautioning Streep's Baroness Blixen about falling for a man that can't and won't be tamed (Denys, played by Robert Redford), but the viewer knows he means more. Out of Africa is not just a romance, it is a movie about the timeless appeal of wanderlust and conquering frontiers. Everyone in the movie seems compelled to warn the Baroness that she's headed into dangerous uncharted territory, but she's just as drawn to adventure as Denys.
One of the movie's very best scenes is when Denys (Redford) returns to Karen's estate after one of his adventures, and this time he puts salt on the wound of her abandonment by bringing home a small yellow plane (It's certainly not the first of his perfect gifts; others include a phonograph and a pen with which to write down her stories). Denys has known how to fly for all of 24 hours, but that doesn't stop the thrill-seeking lovers from taking the plane up into the skies of rural Kenya, over herds of animals and birds that scatter in rivulets and soaring past a waterfall that looks so lush and virgin the viewer wonders if they're the first to see it, all these years later. The idea of being the world's last adventurers or discoverers is no doubt one that's compelled adventurers and discovers for thousands of years, as Out of Africa, based on a true story, importantly reminds.
But Berkeley's line about mapmakers works on yet another level: The Baroness seems convinced that her corner of the world in Kenya that she calls her own is slipping away. These characters seem to be the last to enjoy a pristine, virgin, innocent world that no longer exists. It's almost a fantasy in that sense—and it was fantasy thirty years ago, when the movie was filmed in modern Africa. But, as we know, every person ever thinks their world is changing in their lifetime beyond recognition, and it is. Yet another reason this movie is one of 1,001 movies you must see before you die.
Find out when Out of Africa is airing on SundanceTV.
Click here for a full schedule of 1,001 Movies You Must See Before You Die lineup on SundanceTV.

Click here to order a copy of 1,001 Movies You Must See Before You Die.