Top 10 Movies With a Cause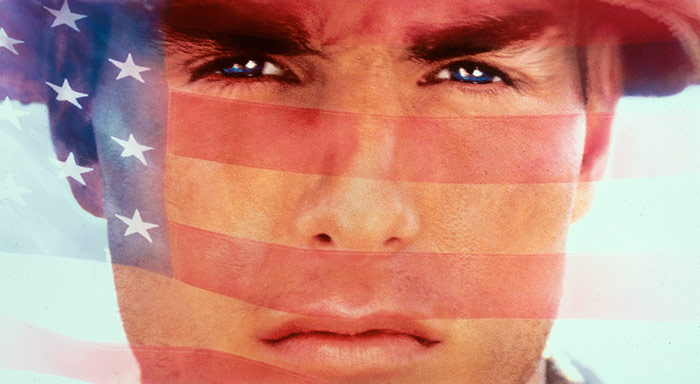 Film may be the most entertaining of all art forms—and the most culturally influential. No wonder many use the medium to push an agenda, reveal an injustice or make a political statement. The next time you're looking to get fired up, watch one of these movies with a bigger purpose.
1. Born on the Fourth of July
Cause: Redefining patriotism and promoting peace. Love for your country doesn't mean you have to agree with all its decisions.
Plot: Tom Cruise is an emotional force of nature as real-life soldier Ron Kovic, an American who fought in Vietnam before becoming one of the nation's most visible human rights activists. Director Oliver Stone amps up the intensity, illustrating the confusion, frustration and guilt that Kovic suffered (not to mention the physical mutilation he endured as a result of his service).
2. Maria, Full of Grace
Cause: Inspiring sympathy for immigrants by exposing the tragedies they will endure to escape their countries.
Plot: For his impressive debut feature, writer-director Joshua Marston examines what it means to be a drug mule: how substances are swallowed, what transpires during the flight, the way the cache is retrieved and the crushed hopes on the other side of the transaction. Then-unknown actress Catalina Sandino Moreno was graced with a slew of accolades (including a Best Actress nomination) for her performance as a smuggler searching for a better life in America.
3. Putney Swope
Cause: A warning that power can lead to corruption.
Plot: In 1969, writer-director Robert Downey, Sr. created an ingenious plot for messing with the status quo: put an African-American activist in charge of a Madison Avenue advertising agency. That's the premise of this scathing farce, a landmark in independent film that mocks race and capitalism with humor that's as absurd as it is biting.
4. No Nukes
Cause: To live in a non-nuclear future.
Plot: In 1979, a band of musicians-turned-activists hit the Madison Square Garden stage for five nights to protest the use of nuclear power. Backstage conversations between Jackson Browne, Bonnie Raitt and others reveal a time when artists' opinions weren't taken seriously; on-stage performances come courtesy of Crosby, Stills and Nash, James Taylor, Carly Simon and The Doobie Brothers.
5. Who Killed the Electric Car?
Cause: To expose the corruption of the auto and oil industries and inspire development of cleaner cars.
Plot: This tale of energy-enlightened drivers and the cars they love unravels as a step-by-step mystery (as the title suggests), tracking the swift history of the electric car from its initial popularity to its demise, as major manufacturers refuse lease renewals and destroy inventory. Paine's 2011 follow-up, Revenge of the Electric Car, chronicles the technology's rise from the ashes. Call it car-ma.
6. Norma Rae
Cause: To show why unions still matter in contemporary America.
Plot: Sally Field and Ron Leibman play polar opposites—a textile factory girl in the Deep South and a Jewish union lawyer from New York City—who become the driving forces behind a dangerous labor strike. Director Martin Ritt, known for his work on films with pervasive social commentary (Conrack, The Front), makes it impossible not to root for Field's gutsy title character, an important female role in the era of the Equal Rights Amendment fight.
7. Hotel Rwanda
Cause: To provide (yet another) reminder of why the world cannot turn a blind eye to atrocities around the globe.
Plot: Steven Spielberg told the world about Oskar Schindler; Irish director Terry George introduced us to Paul Rusesabagina. The latter was a heroic hotel manager in Kigali, Rwanda who provided shelter and safety to more than 1,200 people during the Rwandan Genocide of 1994. This story of humanity amid human slaughter was one of the most acclaimed films of 2004, earning Don Cheadle a Best Oscar nomination for his portrayal of Rusesabagina.
8. Alice's Restaurant
Cause: Reveals the red tape of bureaucracy and blind eyes of justice from the point of view of the anti-establishment, anti-Vietnam War generation.
Plot: Arlo Guthrie was smack in the middle of the hippie revolution when this satiric adaptation of his musical mini-opus hit theaters in the summer of 1969. The story, made legendary in Guthrie's 18-minute song, recounts his arrest for unloading some garbage with friends following a Thanksgiving dinner. Guthrie and director Arthur Penn humorously rail against the absurdities of the law and the draft, though the film ends (the decade) on a melancholic note.
9. Better in this World
Cause: Uncovering the dangers of the political zealotry in the post-9/11 world
Plot: In this gripping documentary, two impressionable young men head to the 2008 Republican National Convention as idealistic activists, and end up arrested on charges of terrorism. Were they being persuaded to commit a violent crime they wouldn't have carried out on their own? Co-directors Katie Galloway and Kelly Duane de la Vega let the facts—and the participants—speak for themselves, charting how two childhood buddies ended up in way over their heads.
10. Blood Diamond
Cause: Raising awareness of conflict diamonds.
Plot: Director Edward Zwick, best known for chronicling the Civil War's first black volunteer company in Glory, exposes the horrors of the diamond industry in this drama that's part adventure, part political statement. Set in an unstable Sierra Leone in the 1990s, Blood Diamond exposes the forced labor and terrifying conditions that took place in the diamond mines during the nation's dangerous conflict. A plot line involving a rare diamond might soften the film's impact, but thrilling performances by Leonardo DiCaprio and Djimon Hounsou keep the world real and the emotions in focus.
Find out when you can watch Born on the Fourth of July on SundanceTV.