Four Tom Cruise Movies You Must See Before You Die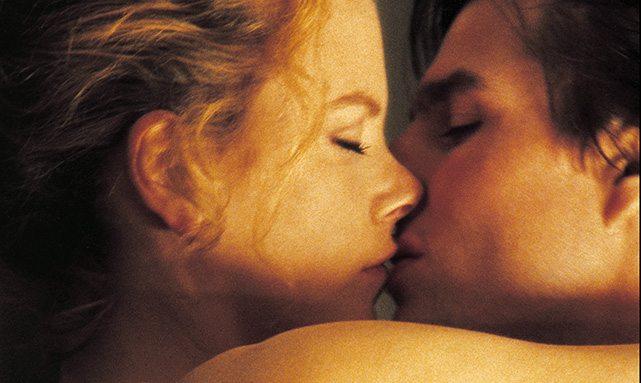 Love him or hate him, the world's most famous Scientologist makes a case for his mega-stardom through these four critically acclaimed films, highlighted in 1,001 Movies You Must See Before You Die.
1. Top Gun (1986)
As grinning fighter pilot Lt. Pete "Maverick" Mitchell, Cruise falls for civilian astrophysics instructor Charlotte "Charlie" Blackwood (Kelly McGillis), while battling (attraction to) rival adversary air-ace "Iceman" (Val Kilmer). Beyond its thin, glossy love-plot and comic-book tone, the feverishly choreographed film served as a recruitment tool for the USAF and its boy-toy fighter jets—and became the quintessential joy-ride action film of the 1980s, with death-defying aerial sequences and a pumped-up pop music soundtrack.
2. Rain Man (1988)
Barry Levinson's Best Picture-winning drama paired two actors who delivered superb character performances: Tom Cruise (as boastful yuppie California car dealer Charlie Babbit) and co-star Dustin Hoffman (as older Raymond)—brothers unknown to each other and separated at infancy. Raymond is awarded a $3 million inheritance in trust when their wealthy estranged father dies. During a kidnapping-turned-cross-country road trip from Ohio to California (with an entertaining detour to Las Vegas), Raymond reveals his autistic-savant condition, while shallow, exasperated Charlie attempts to separate him from the lion's share of the money. However, the relationship grows as they develop a deeper connection, and Charlie's initial plan to wheel-and-deal his brother falls by the wayside.
3. Eyes Wide Shut (1999)
Stanley Kubrick's last completed film was titled to imply self-contradictory reactions: first being exposed or tempted, then reflexively turning away or retreating. Its tagline is simply "Cruise. Kidman. Kubrick." Cruise stars as prominent, affluent NYC doctor Bill Harford, supposedly happily married to Alice (Kidman). In the opening sequence at a fashionable Christmas party, both are individually propositioned—jarring their sense of marital harmony. After smoking pot, Alice confesses her past sexual infidelity (imagined fantasy or real?) with a naval officer. This propels Harford into a must-see night-long quest for sexual intimacy (also possibly a waking dream or fantasy), which includes a controversial masked ball orgy sequence and the self-sacrifice of a nude reveler. He survives his traumatic, baffling encounters and returns to his wife, who bluntly encourages them to resume their sexual lives together, although with an uncertain future.
4. Magnolia (1999)
Creative writer/director Paul Thomas Anderson's challenging third feature, an ambitious, soap opera-like drama (over three hours in length) features a compelling, multi-strand narrative. Singer-songwriter Aimee Mann's melancholy lyrics underscore the film's motifs: the twists of fate and life's regrets, the painful and haunting past and the elusiveness of love and pervasiveness of death. The ensemble cast reflects the emotional desperation and personal traumas of many bruised characters—misguided, sad and miserable souls plagued by fractured relationships. Superstar Cruise memorably portrays Frank Mackey, a sleazy, stud-huckster who leads Seduce and Destroy seminars for sex-starved woman-haters.
Find out when Eyes Wide Shut is airing on SundanceTV.
Click here for a full schedule of 1,001 Movies You Must See Before You Die lineup on SundanceTV.

Click here to order a copy of 1,001 Movies You Must See Before You Die.