Expert Opinion: Rolling Stones Tribute Band Rocker Kevin Gleeson on the Stones in the Movies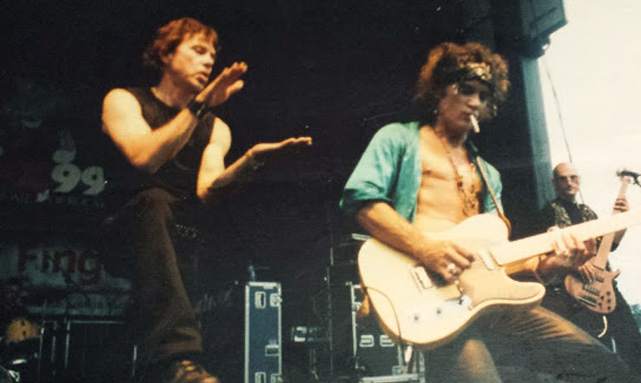 Kevin Gleeson, who has been doubling as Keith Richards in The Rolling Stones tribute bands Beggars Banquet and Sticky Fingers for 15 years, shares his insights on his alter ego, Mick Jagger and the Stones in cinema.
Q: There have been a number of documentaries on The Rolling Stones. Which one is the best and why?
A: I like 25X5 because it covers 1963 to 1989. Many Stones video offerings focus on specific points in time—Gimme Shelter is 1969; Ladies and Gentlemen is 1972; Let's Spend the Night Together is 1982; Shine a Light is 2008. 25X5 doesn't do that. It's an actual documentary, produced by Lorne Michael, that tells the story of the Stones from their founding to their finding success. Of course it's got the sex, drugs and rock and roll, but it reels off in a timeline format. It's a great biography. A must for Stones fans and for those unfamiliar with the Stones.
Q: You've acted the part of Keith Richards, but what do you think of Keith Richards as an actor (especially in regards to the Pirates of the Caribbean movies)?
A: Well, it's certainly interesting to see Depp play Keith while Keith plays his dad—Keith looks like he was enjoying the whole thing. I like this because it's the visual transfer of Keith the outcast addict to the "clean enough for Disney" Keith. He assumes a grandfatherly tone. Keith never earned a knighthood like Mick (not that he would have accepted one), but this movie role, in effect, makes Keith Richards a socially acceptable icon. As a Keith fan, I found that vindicating. It almost didn't matter how he performed—although I think he did terrific job!
Q: Mick Jagger's actually acted more extensively on the big screen. Do you have a favorite Mick Jagger movie?
A: Definitely, Performance which features Anita Pallenberg as Keith's wife. Jagger plays himself as an androgynous, retired, drug-addled rocker who provides sanctuary to a young mobster. Interestingly, Jagger actually has sex with Anita Pallenberg in a famous ménage-à-trois bathtub scene. Very racy for 1970. In fact, many theaters refused to show it. It's the best movie soundtrack for my money. You've got to see this. You've got to hear this.
Q: What's the best use of a Rolling Stones song in a movie?
A: That's a tough one given that The Rolling Stones music has been featured in hundreds of movies and television programs. Hmm. I can't help myself on this one. I guess Gimme Shelter by the Maysell Brothers. This is a tough movie to "like," as it's the story of the band's 1969 tour of North America. Following on the tail of Woodstock, the Stones offer a ceremonial free concert with disastrous results. Four births, four deaths—and a man stabbed to death by Hells Angels in full view of cinematographers during "Under My Thumb." I wouldn't be able to live without this soundtrack. Not for everyone, but hard for Stones fans to resist.
Q: You've worked with the Stones cover bands Beggars Banquet and Sticky Fingers for 15 of years. What's the best cover band—of any band—you've ever seen in a movie?
A: I'm dating myself, but the band that played in Bette Midler's "The Rose" did a great job paying tribute to Big Brother and the Holding Company next to Midler's loose Joplin tribute. "Who's side are You On?" and "Let Me Call You Sweetheart" are so well performed. That film won many awards and "The Rose" is still a powerful ballad heard on 100s of music channels a day. I guess after 40 years of playing and paying tribute to the Stones, I appreciate how Midler portrayed the fragile butterfly versus the hard glass of life on the road.
Need an education in Heavy Metal and movies? Check out what Elizabeth Cline of Mortals has to say.
Why stop here? Keep your playlists up to date with the music featured on RECTIFY.