You'll Wish You Were a Kid Again: The Best Coming-of-Age Films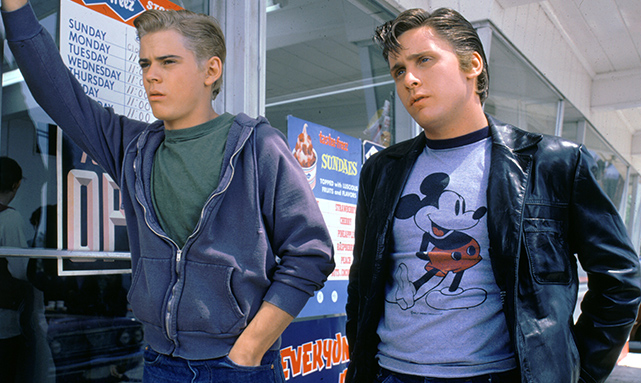 The journey to adulthood is a graceful one. (We kid.) But it's always entertaining. See how these motley crews of misfits and bewildered teens navigate the big leagues.
1. The Outsiders
Growing up isn't all fun and games. For the Greasers, a tight-knit gang of outcasts, it's a relentless series of rumbles, stabbings and sad endings. But for young actors Patrick Swayze, Rob Lowe, Matt Dillon, Tom Cruise, Emilio Estevez and Diane Lane, the future is bright.

2. Dazed and Confused
The tag line for this high school epic: "It was the last day of school in 1976, a time they'd never forget … if only they could remember." Incoming freshman Mitch Kramer (everyone's favorite Tim Lincecum look-alike) learns the lay of the land, while newly-minted senior Randall "Pink" Floyd and his gang of sky-high friends show the newbies who's in charge. And who wants to stop it all? Friggin' adults. But no one is going to interfere with their one chance to party.
3. Wet Hot American Summer
How fast can one come of age? Many movies imply it's over the course of a day. WHAS plays up the warp-speed notion: counselors go to town with their boss, Beth, where they smoke cigarettes, rob an old lady and develop an addiction to heroin, before returning to camp an hour later; camper Aaron and art teacher Gail get engaged and move in together the next morning. Kids these days.
4. Almost Famous
From drug-induced roof rants to quality time with the Band-Aids, teen music journalist William Miller (Patrick Fugit) can't help but take it all in. On tour with fictional '70s rock group Stillwater, the uncool (and underage) writer struggles to stay true to his craft and his idols.
5. Superbad
It may have taken period-stained pants, fake IDs and ridiculous drunken exploits, but Michael Cera's Evan and Jonah Hill's Seth share the realization that friendship conquers all. Is it sweet to imagine Seth Rogen and his best friend writing the screenplay together? Absolutely. Do we think they were courted by girls as hot as Emma Stone? Not likely.
6. Dead Poets Society
Despite our attempts to graduate high school without having learned anything, there was always one teacher whose lessons hit home. The movie poster alone, with Mr. Keating's students carrying him on their shoulders, is as idyllic as a Whitman poem itself. We're pretty sure you'll be inspired to tears.
7. Kicking and Screaming
They're supposedly the best years of your life, so it's no wonder that the recent grads of K and S can't bring themselves to move on. Amid witty banter, convenient romances and trivia tests, members of the collegiate crew struggle to get out of their own way (and into the real world).
8. The Squid and the Whale
What do you do when your dad is boning his hot, younger student, and your brother is ejaculating all over school? Tell everyone you wrote Pink Floyd's "Hey You" and hope you get away with it. At least that's what Walt (Jesse Eisenberg) does. As his parents' marriage dissolves, the unhappy 16-year-old feels obligated to choose a side, but his big realization is that sometimes things aren't so simple—and perhaps he is neglecting a larger emotion.
9. The Sandlot
Nothing warms the heart like watching this ragtag group of boys come together to solve a nearly impossible problem: retrieving a Babe Ruth-signed ball from the beast of a dog next door. Throughout their mission, Benny "The Jet" Rodriguez and his band of (baseball) brothers prove the true meaning of teamwork.