10 Movies Worth Drinking to (and the Drink to Do It With)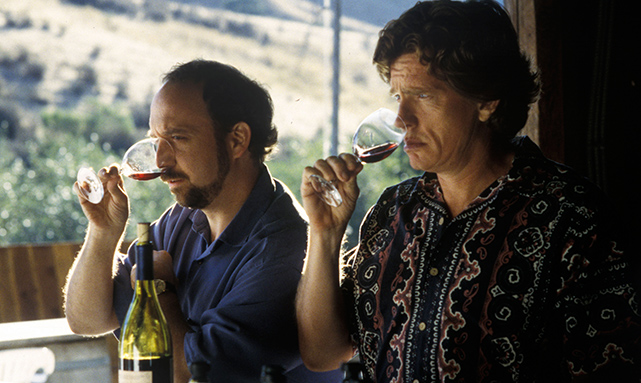 It's always five o'clock somewhere, which is why we encourage you to raise a glass alongside some of our favorite film lushes. You pick the movie and we'll suggest the drink—bottoms up!
Blue Velvet, Beer
For David Lynch's surrealist thriller (with a career-defining performance from Isabella Rossellini), get into the suburban spirit by cracking open a cold one. But if you do, don't let Frank (Dennis Hopper) catch you with an import. An expletive-ridden rant from the perverse misfit will surely follow.
Bottle Shock, Chardonnay
Helmed by a snobby Alan Rickman, the movie recounts the 1976 blind taste test between the vineyards of France and the Napa Valley upstarts. Rickman serves as an excellent foil to Bill Pullman's scrappy vintner, Jim Barrett. Savor a bottle in honor of small victories.
Casablanca, Champagne
Lovers, musicians, deal-making politicians. They all mingle at Rick's Café. Rick (Humphrey Bogart), an American ex-pat in Vichy-occupied Morocco, is thrown by a visit from his ex and her revolutionary husband. Easily one of the best movies ever set in a bar, Casablanca is worth watching for the one-liners alone. "Here's looking at you, kid."
Casino Royale, Vesper Martini
Agent 007 taught audiences the proper way to order a martini: shaken, not stirred. But it's during a card game in Casino Royale that he gives more specific instruction: "Three measures of Gordon's and one of vodka, half a measure of Kina Lillet. Shake it over ice and then add a thin slice of lemon peel." Now that's smooth.
Cocktail, Red Eye
The Tom Cruise vehicle that launched bartending competitions worldwide, Cocktail mixes everything bad about the '80s (greed, teased hair) with one man's quest to open the watering hole of his dreams. Watch this movie in the morning with the lager, tomato juice, and egg concoction that will cure last night's indulgences.
Sideways, Château Cheval Blanc
A midlife crisis has Miles (Paul Giamatti) and Jack (Thomas Haden Church) hitting the road for a week-long, booze-and-sex-filled trip to wine country. The Alexander Payne film was such a cult hit that pinot noir purchases increased by 16 percent, while merlot sales went into the spit bucket.
Silence of the Lambs, Chianti
Anthony Hopkins as Hannibal Lector is the scariest thing about this Jonathan Demme thriller, even if he's aiding FBI agent (Jodi Foster) in her search for a serial killer. Strange but true, the cannibal consultant drops the best unasked cooking advice ever: a wine pairing for human liver and fava beans.
The Big Lebowski, White Russian
In the wacky Coen brothers' tale of mistaken identities, Vietnam references and feminist art, only The Dude's cocktail of choice remains a constant. In fact, The Dude (Jeff Bridges) downs nine of them over the course of his journey. We won't judge if you do, too.
The Thin Man, Scotch
Retired detective Nick (William Powell) and socialite wife Nora (Myrna Loy) are on the case (and the bottle). Released at the height of the Great Depression and the end of Prohibition, the comedic whodunnit introduced audiences to a well-dressed, witty couple spouting one-liners while downing drinks. We dare you to keep up.
Withnail & I, Château Margaux Bordeaux
This dark comedy, starring former "Doctor Who" Paul McGann and Richard E. Grant, follows the misadventures of two struggling actors who procure a drink wherever they go. Grant plays the uncouth alcoholic; McGann, his permissive straight-man. As great as the chemistry is, this pair is toxic. Bottom of the barrel, indeed.
Are your wine openers ready? Find out when Sideways is playing on SundanceTV.