They're All Not Gonna Laugh at You… 10 Movies Where Girls Get Even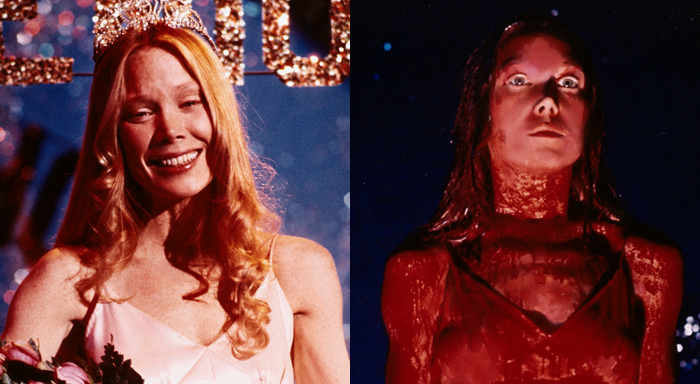 Bullies, bitches and bad guys take note: When you try to pull a fast one on some girls, you'd better get ready for what's to come. They may be young, they may seem sweet, but when push comes to shove, they will shove you right back. Here are 10 movies where girls get even.
Carrie (1976)
It's not enough that naive Carrie (Sissy Spacek) has to suffer at the hands of her religious-fanatic mother (Piper Laurie), the kids at school never let her forget that she's different (the worst crime of teenage life). After being thoroughly humiliated at the prom — pig's blood! all those laughing faces — she proves it's not a good idea to pick on the freaky outcast who's going to unleash her telekinetic powers and kill her tormentors.
Hairspray (1988)
Spunky and sweet, plus-size Tracy (a young Ricki Lake) is mocked by the pretty, privileged Amber, a regular on the locally broadcast The Corny Collins Show. By showing off her enviable dance moves—and a brand of human decency unfamiliar to Amber and her kith and kin—Tracy becomes a shining star, while breaking down racial barriers by get her favorite show integrated in the process.
Heathers (1988)
The über-snooty Heathers clique rules the school, so when recent acquisition Veronica (Winona Ryder) defies them, they promise to ruin her. Instead, Veronica's psycho-sexy beau J.D. (Christian Slater) stages supposed "suicides" of anyone who comes after her, sparking an epidemic of real suicide attempts. Having had enough, Veronica breaks up with J.D., foils his plan to blow up the school, dethrones the remaining Heather, and hangs out with the picked-on girl. Cool, right?
The Craft (1996)
What do a lying hot guy, a racist popular girl and an abusive stepfather have in common? They all run afoul of the coven of teens (Robin Tunney, Neve Campbell, Fairuza Balk and Rachel True) who use their powers to exact revenge: The guy becomes infatuated (and rejected), the racist loses her hair (and her marbles), the stepfather dies from a heart attack. Ultimately, one girl decides another has gone too far and gets even with her, too.
Legally Blonde (2001)
Dismissed by her boyfriend as a ditz, sorority queen Elle (Reese Witherspoon) decides to win him back by following him to Harvard Law School. More shocking than her excellent LSAT scores is her aptitude for trial work; she realizes that the boyfriend is a loser anyway and that she has found her true calling in the law—all while maintaining her own perky, pink identity.
Mean Girls (2004)
Cady (Lindsay Lohan) first joins the popular, horrible Plastics (led by Rachel McAdams), then—as things get messier and meaner—sets out to take them down. In the end, she truly gets even by returning to her nerdy roots and realizing that's what she wanted to be all along.
Hard Candy (2005)
Posing as an innocent but curious 14-year-old, Hayley (Ellen Page) chats online with 30-something-year-old Jeff (Patrick Wilson); they meet and she goes home with him. There she drugs him, ties him up, torments him and gets him to confess to his pedophiliac crimes—and ultimately kill himself. Hayley simply walks away.
John Tucker Must Die (2006)
Not one but three slighted high school girls (Arielle Kebbel, Sophia Bush and Ashanti) carry out an elaborate plan to get back at John Tucker (Jesse Metcalfe), who has bamboozled all of them. When the rumors they spread about him having an STD fail to do the trick, they talk Kate (Brittany Snow) into seducing—and rejecting—him. They finally reveal the plot to John, and he is chastened, promising to be more honest with future girlfriends.
Easy A (2010)
When Olive (Emma Stone) lies about losing her virginity, everyone turns on her—including her best friend. But instead of being abashed by the religious kids out to shame her, she embraces her false slutty identity, profiting from it and making other kids' reputations along the way. Once it all begins spiraling out of control, though, she reveals the truth and gets even by showing up everyone's hypocrisy.
Kick-Ass (2010)
Trained from a young age to be a well-honed vigilante, preteen Hit-Girl (Chloë Grace Moretz) is ruthless against the crime boss her Big Daddy (Nicolas Cage) has vowed to take down. And when Big Daddy himself is killed by the baddies, Hit-Girl takes her vengeance with the help of her fellow junior-superhero Kick-Ass by basically killing everyone in sight.
Check out upcoming showings for Heathers on SundanceTV.