Kill Bill. Kill Drag Racers. Kill the Nazis. The Women of Quentin Tarantino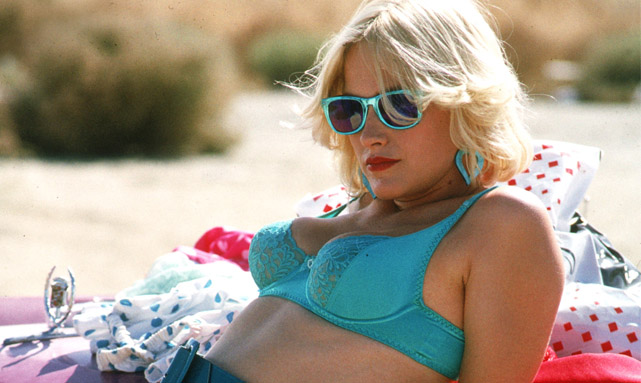 Never underestimate a Tarantino woman—in his impressive body of work, the director's strong and charismatic female characters reign supreme. Here are ten of our favorite gunsligers.
1) Beatrix Kiddo (The Bride), Kill Bill: Vol. 1 & 2
It would be a tough feat for most actresses to stand out in these 100 MPH action-flicks—but it's a piece of cake for Tarantino-muse Uma Thurman. She owns her ambitious role of "The Bride"—a deadly assassin who awakes from a coma and, as soon as the numbness wears off enough for her to wiggle her big toe, sets off on an epic quest. The samurai-sword wielding badass is a stone-cold killer that everyone can get behind.
2) Shosanna Dreyfus, Inglourious Basterds
After her entire family is killed by Nazis, Shosanna makes a glorious escape, heads to Paris, takes on an alias and opens up a cinema. And if that's not enough, Shosanna also plans kill top Nazi leaders during a film premiere. Perhaps most impressively, actress Mélanie Laurent holds her own against Christoph Waltz's Oscar-winning performance as colonel Landa—proving again that when Tarantino writes a female, he doesn't write them weak.
3) Broomhilda, Django Unchained
Kerry Washington's Broomhilda is put through the emotional (and physical) ringer—she's separated from her husband and sold to and brutalized by the wealthy Calvin Candie. Broomhilda may be in the most terrible situation imaginable, but she keeps her wits about her and jumps on board with her rescuer's clever ruse as soon as they arrive on the scene. When Broomhilda and her husband ride away into freedom as Calvin's Candyland ranch explodes into flames, we know that she is a survivor.
4) Jackie Brown, Jackie Brown
Jackie Brown (Pam Grier), a flight attendant/smuggler between Mexico and L.A, finds herself spread thin when juggling multiple money smuggling plots, suspicious agents, and shaky relationships with various unsavory characters in her criminal circle. Jackie, however, proves she can hustle with the best of them—she keeps up appearances while double-crossing them all, ending up with $550,000 in her pocket.
5) Mia Wallace, Pulp Fiction
Space cadet Mia may be the bored, drug-using wife of a notorious gangster, but that doesn't stop John Travolta's character from flirting with her over milk shakes. In one of the 1994 crime flick's most famous scenes, she even convinces him (an aging hit man with a beer gut, mind you) to enter the diner's "Twist" dance competition—a testament to her irresistible charisma.
6) Alabama Whitman, True Romance
Ater falling in love at a movie theater, call girl Alabama (Patricia Arquette) and her new husband Clarence wind up on the run from the Detroit mafia—a less than ideal honeymoon. Alabama holds her own, taking down bad (well, worse) guys and ensuring a clean escape to Mexico with Clarence. In an alternate ending, Tarantino gives Alabama all the glory—she walks out of the final bloody shootout alone and heads for the Mexican border with all the money to herself.
7) Oren Ishii, Kill Bill: Vol. 1
Oren Ishii may be one of heroine Beatrix's main foes, but in the hands of Lucy Liu, she's a villain to admire. Oren certainly started at the bottom—an ordinary girl orphaned by a crime-lord's henchmen—but she quickly climbed the assassin ladder with her killer shot and unparalleled savviness, becoming Queen of the Tokyo crime underworld at the ripe age of twenty-five. Oren commands an army of killers with ease, and proves she can go from complacent to scalping one of her council members in 3 seconds flat—telltale signs of a classic Tarantino female.
8) Bridget von Hammersmark, Inglourious Basterds
Our second Tarantino lady from Inglourious, Diane Kruger's secret agent/actress Bridget von Hammersmark embodies the directors common triple threat: beauty, brains, and a willingness to get her hands dirty. First at a German tavern and then at Shosanna's cinema, Bridget commands scenes wrought with tension, carefully maintaining her cover and operating a firearm expertly.
9) Honey Bunny, Pulp Fiction
Amanda Plummer is the hilarious, small-time robber Honey Bunny. And while she may seem sweet and unassuming at first, just a regular girl having breakfast with a guy, she's not as one-dimensional as all that. We learn about her brilliant take on a hold-up—rob the customers too—and then in the middle of their strangely thorough conversation about robbery, she's on the table with a gun: "Any of you f-king pricks move, and I'll execute every mother-king last one of ya!"
10) The Girls of Car Chase # 2, Death Proof
Four fearless females (played by Rosario Dawson, Tracie Thoms, Mary Elizabeth Winstead and real-life stuntwoman Zoe Bell) are more than a match for the killer. After coming out of a terrifying car chase miraculously unharmed, the girls are not amused—they go back for round two, hunting the perpetrator down and ridding the world of his murderous games in a sweet, sweet revenge ending.
Catch badass Tarantino babe Alabama taking on drug lords in True Romance, part of Thrillier Fridays on SundanceTV.