Sex Scenes Too Hot for American Cinema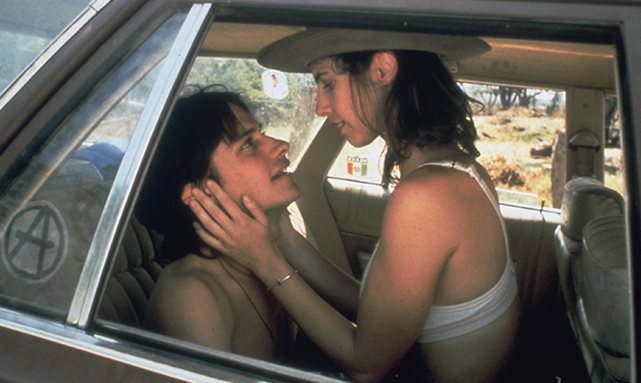 We've compiled a top 10 list of the sexiest foreign films—they're not all necessarily erotic, with lots of skin. Nor are they all uplifting, life-affirming tales of carnal romance with happy endings. But they do focus on issues of sexuality and sensuality in artful ways—and that's sexy.
1.  Y Tu Mama Tambien (2001)
We've got one thing to say about this Mexican movie: MMF three-way with Gael García Bernal. That's all you really need to know.
2. Betty Blue (1986)
With a title like that—its double entendre (Betty blew), the word "blue" being slang to describe erotic films—it sounds like a bad porno. But it's French, so snap! Instant artistic value. Especially since all the passionate nookie has an undercurrent of obsession and madness to it. The very first scene starts off super steamy, and things only heat up—both figuratively and literally—from there.
3. Like Water for Chocolate (1992)
People often mention the refrigerator scene in 9 1/2 Weeks when talking about the erotic potential of food, but that film doesn't hold a candle to Like Water for Chocolate's gastronomic sensuality. It's a star-crossed love story set during the Mexican Revolution: Tita loves Pedro, but it's complicated. Unable to be with the one she loves, her only outlet for true expression is through her food—and so her lust and longing get transferred to those who partake of her culinary creations (much like Hepatitis A).
4. The Pillow Book (1996)
A woman with daddy issues enlists lovers to recreate the childhood experience of her father painting words on her body in the ancient Japanese "pillow book" tradition (collecting personal observations) of 10th century court lady, Sei Shōnagon.
Fortunately for us, the main character finds a great guinea pig in Ewan McGregor, who's as unafraid of full frontal as she is. The film is signature Peter Greenaway (director of The Cook, The Thief, His Wife and Her Lover): visually sumptuous, hauntingly sensually, and ultimately effed-up.
5. Belle Epoque (1992)
This is your typical farmer's daughter tale, but with four daughters (including one lesbian who takes her turn while both she and "the traveling salesman"—in this case, an idealistic soldier deserting the Spanish Army in 1931—are dressed in drag for a costume ball!). The sex is suggestive and playful, rather than graphic or erotic, which probably helped it sweep the Spanish Oscars and get an Academy Award for best foreign language film.
6. An Affair Of Love (1999)
Also known as "A Pornographic Affair," this little French film is super sexy for what it doesn't show. Via a magazine ad, a woman finds a stranger to fulfill her sexual fantasies: without exchanging names, they meet in a hotel room once a week to do who knows what. But as is always the case, reality (i.e. love) creeps into life and ruins the fantasy.
7. Tie Me Up! Tie Me Down! (1990)
This is the story of a mental patient, obsessed with a former porn star, who beats, kidnaps, binds and gags her in the hopes that she'll fall in love with him when she gets to know him better. The fact that she eventually does makes our inner radical feminists gag, but it's hard not to include a movie that a) was directed by Spain's sex-obsessed Pedro Almodavar, b) stars a smoldering Antonio Banderas and c) moved the MMPA to create the NC-17 rating.
8. The Dreamers (2003)
How could we not include this film? It made the cut in our Top 10 Cinematic Love Triangles, and director Bernardo Bertolucci was number 4 in our Top 10 Directors Not Afraid of Nudes. He directed The Dreamers more than 30 years after his infamous Last Tango in Paris. Now some might say that earlier film should have made this here list of sexy imports, but in this day and age it comes across as more silly than sexy. (Maybe seeing Marlon Brando at 70 in that Larry King interview ruined it for us—those pants!) So we're picking his 21st century take on an attractive and dairy-free (albeit incestuous) threesome in 1960s Paris.
9. Sex & Lucia (2001)
We've long recommended Polaroids as a great way to take naked pictures of yourself and your luvva: no negatives or immediate digital files; a lack of crisp detail to hide imperfections, and an automatic retro artiness to them. So it was nice to see an example of just this in the Spanish erotic drama Sex & Lucia starring Paz Vega. Is some of the nudity gratuitous? Perhaps. But what can we expect from a movie with the word "Sex" in the title?
10. The Unbearable Lightness of Being (1998)
Tomas is a womanizing brain surgeon in Communist Czecholslovakia with a compulsion to see the unique individualism of every woman that's visible only in her orgasm. Um, yeah, right. But the strength and independence of his longtime lover Sabina (Lena Olin) and his obvious tender affection for Tereza (Juliet Binoche) help make Daniel Day Lewis's Tomas likeable. What Magritte did for the artistic appeal of the bowler hat, Olin does for its erotic potential.
Still craving more? Check out our list of mainstream movies pushing he boundaries in bed.