See the Sites: 5 Quintessential Road Trip Movie Duos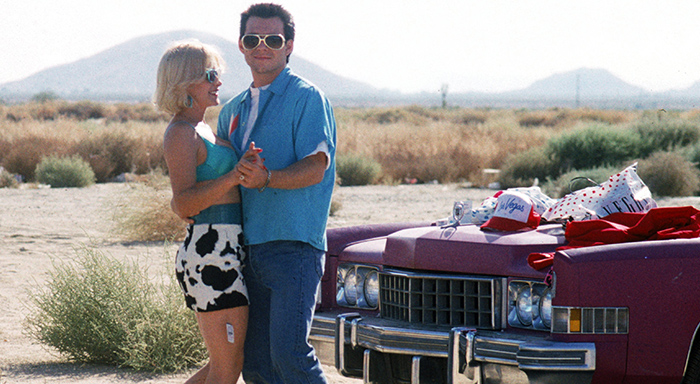 There's something about summer that makes road trips a must: 'Tis the season to ditch the office and head to the highway with your best friend. If that's not an option, make a date with that special someone to enjoy the open road from the comfort of your couch. Here are just a few of moviedom's most memorable journeys—including a few you can catch on SundanceTV this month.
Bonnie and Clyde
The Duo: Bonnie Parker (Faye Dunaway) and Clyde Barrow (Warren Beatty)
The Travel Route: Texas to Louisiana

Once bored waitress Bonnie falls for outlaw Clyde, the pair team up to become partners in crime—embarking on a road trip that involves bank robberies with body counts. It's a testament to Bonnie and Clyde's outlaw appeal that everyone from Quentin Tarantino to Beyonce and Jay-Z have put their spin on the famous duo. And let's not forget their iconic Ford V8, which served as both as their getaway vehicle and the site of their gruesome deaths.
Sideways [View Schedule]
The Duo: Miles Raymond (Paul Giamatti) and Jack Cole (Thomas Haden Church)
The Travel Route: San Diego to Santa Barbara wine country

Former college roommates Miles and Jack take a road trip that's pretty much a week-long, bro-tastic bachelor party—filled with food, wine, double dates and affairs. Of course, the latter gets them in a bit of trouble when Jack's fling with Stephanie (Sandra Oh) ends in a broken nose and Miles has to rescue a wallet left behind at another hookup's house. To add to the mess, Jack wrecks Miles' Saab convertible so his finance won't be suspicious of his injury.
The Blues Brothers
The Duo: 'Joliet' Jake Blues (John Belushi) and Elwood Blues (Dan Aykroyd)
The Travel Route: Calumet City, Illinois to Chicago

The famed SNL pair's approach to the wide, open road can best be summed up by their famous exchange in the Bluesmobile. (Elwood: "It's 106 miles to Chicago, we got a full tank of gas, half a pack of cigarettes. It's dark, and we're wearing sunglasses." Jake: "Hit it.") The brothers stick by each other as their "mission from God" to save their childhood orphanage leads them to spirited musical performances, neo-Nazis, a homicidal woman played by Carrie Fisher—and, ultimately, back to jail. Although this time around, they're together.
Thelma & Louise [View Schedule]
The Duo: Thelma Dickinson (Geena Davis) and Louise Sawyer (Susan Sarandon)
The Travel Route: Arkansas to the Grand Canyon

Louise is independent and outspoken. Thelma is passive and sheltered. Together they're feminist renegades. After Louise saves Thelma from a would-be rapist, the friends go on the lam in a 1966 Ford Thunderbird convertible—outrunning the police, abusive exes and hunky con men. Together, the duo take the ultimate joyride to their liberation (sort of).
True Romance [View Schedule]
The Duo: Clarence Worley (Christian Slater) and Alabama Whitman (Patricia Arquette)
The Travel Route: Detroit to Los Angeles

Alabama is more than willing to give up her career as a prostitute when she and Clarence fall in love at first sight. But matters get complicated when Clarence takes out her pimp and accidentally steals a suitcase full of drugs and money. The two lovebirds decide to head to California in one of the most romantic (and scariest) road trips on film—complete with make out sessions in phone booths.

For a solo trip that comes with some serious issues, check out Katie Leung in SundanceTV's new two-night special event ONE CHILD on Dec. 5 and 6..