January Jones Gets Dramatic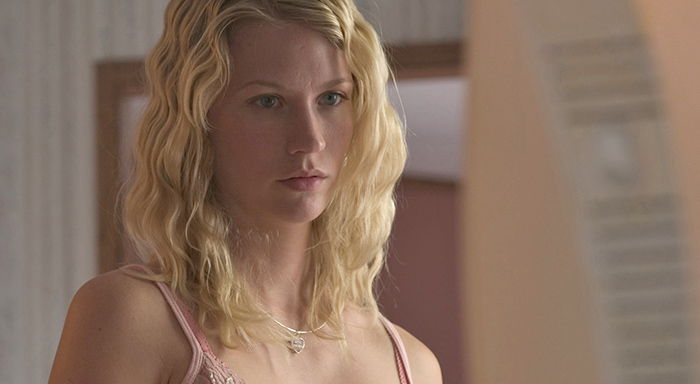 Fans know and love her as Betty (Draper, then Francis) on Mad Men, but there's another side to the actress, well beyond her current stint on The Last Man On Earth as well.
1. Lou Ann Norton, The Three Burials of Melquiades Estrada
This neo-Western, Tommy Lee Jones' directorial debut (he also stars), features Jones as the wife of a Border Patrol Agent (Barry Pepper) who shoots and kills a Mexican immigrant cowboy (Julio Cedillo). Rather than fess up, he tries to cover up his crime and is kidnapped for his troubles. Lou Ann, meanwhile, is fed up with him and their life in Texas and decides to leave it all behind and return home to Ohio.
2. Darla, Swedish Auto
Jones plays a quiet small-town waitress who is fascinated by an awkward and lonesome mechanic, Carter (Lukas Haas). As she longs to escape her abusive husband, the two eventually connect and begin a tentative affair.
3. Laura Gerard, Seeking Justice
The violent attack of Laura, a musician who is raped after a performance, sets off the events in this grim action thriller. Her mild-mannered husband, Will (Nicolas Cage), contracts with a sinister stranger to have her attacker—who has done this before—killed in revenge. The only catch: Will has to return the favor at some point in the future. Laura is caught up in his crime and eventually has to take matters into her own hands.
4. Carole Dawson, We Are Marshall
In McG's football drama, Jones plays the wife of William "Red" Dawson (Matthew Fox), the lone surviving member of the college team's staff after a tragic plane crash wipes out the players and coaches. She has a memorably dramatic moment when she discovers that her husband hasn't perished in the crash.
5. Elenore, Pirate Radio

In this '60s-based British dramedy, Jones has a short-lived relationship with–and even shorter marriage to–sweet DJ "Simple" Simon Swafford (Chris O'Dowd), whom she weds in a shipboard ceremony. Only after the fact does she reveal her true motivation: She is in love with another DJ, Gavin (Rhys Ifans), and this was her means of getting closer to him on the rock & roll-broadcasting trawler off the coast of Great Britain.
If you liked Mad Men, you just might like RECTIFY on AMC's sister network SundanceTV. Check out the trailer below
RECTIFY's all-new season airs Thursdays at 10/9c on SundanceTV.
Watch full episodes of RECTIFY online now.