10 Best Pieces of Unsolicited Fatherly Advice from Movie Dads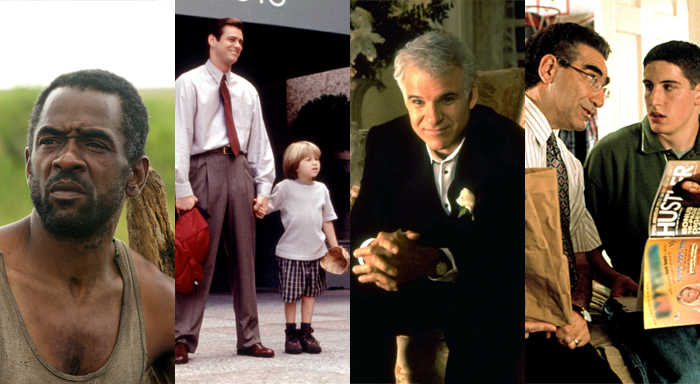 Dad. He taught you how to catch a baseball, make pancakes and pull weeds. But it's his useless two cents' worth, ahem, sage advice that's priceless. And although he covered many bases, there are a few things he missed—that's where the big screen comes in. Herewith, ten pearls of wisdom from movie dads who are full of it.
1. On Riding in Cars with Boys
"Drive carefully—and don't forget to fasten your condom." George Banks (Steve Martin), Father of the Bride (1991)
Martin takes on the role of George Stanley Banks, an overprotective patriarch faced with a newly engaged daughter, like a boss. Which is evident when he the above Freudian slip slides off his tongue. Further translation: No burning rubber.
2. On Masturbation
"It's like banging a tennis ball against a brick wall, which can be fun, but it's not a game. What you want is someone to return the ball." Jim's Dad (Eugene Levy), American Pie
Forget apple pie; nothing's more American than a father who oversteps his bounds. And no one fills those shoes better than Levy in what could arguably be considered a film that triggered the growth spurt of teenage raunch-com, opening the door for laugh riots like Superbad and anything Apatow.
3. On Noodling (a.k.a. Hand Fishing)
"Ball your fist up—that's your punching hand—in case you have to whack 'em when they come out." —Wink (Dwight Henry), Beasts of the Southern Wild
Benh Zeitlin's waterlogged fairy tale about a Hushpuppy, her alcoholic daddy and their hometown nook known as the Bathtub took top prize at Sundance 2012 and is flooded with soulful nuggets of wisdom—like how to bare-handedly yank your dinner out of the water.
4. On the Trope, "Real Beauty Is on the Inside"
"That's just something ugly people say." —Fletcher Reede (Jim Carrey), Liar Liar
It's no secret director Tom Shadyac and leading funnyman Jim Carrey enjoy each other's company: They've teamed up for multiple pictures (Ace Ventura: Pet Detective, Bruce Almighty). But it's on the set of Liar Liar that Carrey's comedic talent is truly on fire.
5. On Ditching the Security Blanket
"I understand that you little guys start out with your woobies, and you think they're great … and they are, they are terrific. But pretty soon, a woobie isn't enough. You're out on the street trying to score an electric blanket, or maybe a quilt. And the next thing you know, you're strung out on bedspreads, Ken. That's serious." —Jack Butler (Michael Keaton), Mr. Mom
Leave it to John Hughes to pen one of the most eloquent man-to-toddler chats in cinematic history and to Michael Keaton to deliver it with all the pomp and circumstance of Mary Poppins.
7. On Dating
"No drinking, no drugs, no kissing, no tattoos, no piercings, no ritual animal slaughters of any kind. Oh God, I'm giving them ideas." —Walter Stratford (Larry Miller), 10 Things I Hate About You
Heath Ledger, Julia Stiles and Joseph Gordon-Levitt star in the Taming of the Shrew adaptation, but it's Miller's neurotic display as an OBGYN/single dad that steals the scene.
8. On How to Fight
"Know your opponent. Never sneak up on a man who's been in a chemical fire." —Frank Powell (Ian McShane), Hot Rod
Andy Samberg is Rod Kimball, a faux-mustachioed motorbike stuntman who's trying to raise enough money to pay for Frank's life-saving heart operation. Why? So he can kick Frank's ass and, in turn, become a man. So goes the plot of the underrated indie comedy starring two-thirds of Lonely Island (Samberg, Jorma Taccone).
9. On Drugs
"Remember what I told you? No pills, no powders. If it grows in the ground, it's probably okay." —Ben's Dad (Harold Ramis), Knocked Up
Parents are all a bunch of hypocrites. They have to be. Otherwise, the children of the future would look more like children of the corn. Still feeling perplexed? Dole out the above advice, courtesy of the late, great Ramis as Ben's dad in Judd Apatow's sophomore snort-out-loud comedy.
3. On What to Do with a Bowlful of Cereal When You Ain't Got Milk
"Put some water on dat damn shit." —Mr. Jones (John Witherspoon), Friday
Dry, atop yogurt, sprinkled over ice cream. What are superior solutions to eating cereal dowsed in H2O? Witherspoon joins Ice Cube and Chris Tucker for the '90s comedy about a couple of stoney balonies whose street-life antics put their lives in jeopardy.
10. On Drinking
"Don't let your mother smell that beer on your breath." Clark Griswold (Chevy Chase), —National Lampoon's Vacation
Daddy of all the Vacation films, National Lampoon's legendary original travels cross-country to Wally World. Director Harold Ramis and writer John Hughes put Chevy Chase behind the wheel of this family truckster, and the fatherly flub that follows is an adolescent male rite of passage. Not to mention the birthplace of classic riposte "Good talk, Russ."