Top 5 Ways to Get More of Jon Hamm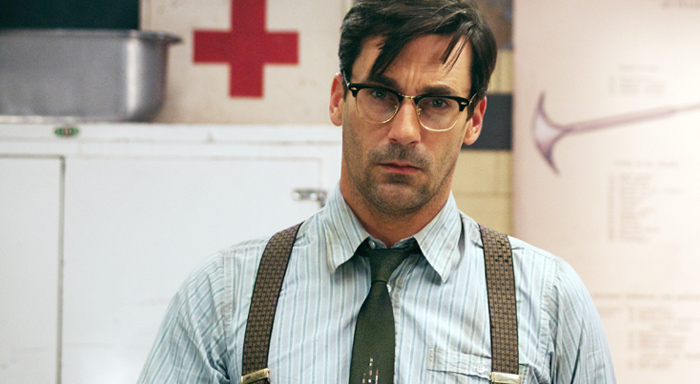 There's no denying Jon Hamm's TV superstardom—Don Draper is one of the most indelible characters of our time, but the actor shines on the big screen as well. As Mad Men draws to a close, take a look at Hamm's Top 5 movie roles.
1. JB Bernstein, Million Dollar Arm
Finally in the forefront of a major movie release, Hamm hits a home run as the down-on-his-luck sports agent. JB's big idea—importing new pitching hopefuls in the form of cricket players—leads him to India, where he discovers two talented young men and learns that there's more to life than the next deal.
2. Adam Frawley, The Town
As an FBI special agent hunting a gang of bank robbers, Hamm is a scene-stealer (no small feat, given that his costars include Oscar winner Ben Affleck and nominee Jeremy Renner). Frawley is a tough guy who is "sure about what is wrong and what is right," Hamm told the Today show. "It was certainly nice to get away from Mr. Draper for a while."
3. Ted, Bridesmaids
Jerk extraordinaire Ted is a hot but aloof hookup for heroine Annie (Kristen Wiig), who's only Number Three on his list of booty calls. Hamm proved his comedy chops as perhaps the most unlikeable guy imaginable.
4. Ben, Friends with Kids
Directed by and starring his long-term real-life partner, Jennifer Westfeldt, Friends with Kids once again pairs up Hamm with Wiig—this time he's a husband and father who is fraying at the edges. As his marriage falls apart, he shows us a sympathetic portrait of vulnerability.
5. High Roller/Doctor, Sucker Punch
In the wild thriller about a girl (Emily Browning) trapped in an insane asylum (and her own violent fantasies), Hamm plays the doctor tasked with lobotomizing her—and, in her imaginings, the well-heeled cabaret denizen High Roller.