How Much More Dark Could These '80s Movies Be? None More Dark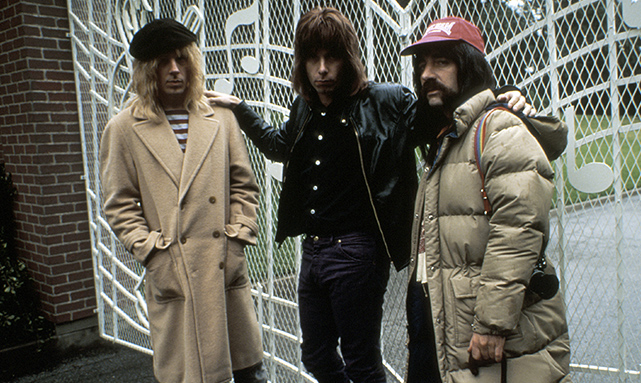 Looking back on that decade of excess and contradictions, it's clear that our art was just as twisted as we were, tapping into the darkest kind of humor behind all that neon. Don't believe us? Be sure to catch these darkly comedic '80s films on SundanceTV.
1. Brazil (1985)
Terry Gilliam's fanciful futuristic comedy takes a wild dive into a land of bureaucracy, terrorism and, in an indelible image, extreme plastic surgery. It's a fever-dream kind of dystopia that is simultaneously hilarious and horrifying, making Brazil a true dark comedy classic.
2. Heathers (1988)
It doesn't get much darker than Heathers. It's not just the murders dressed up as suicides, or the vicious taunting, or the anarchic disregard for human life—it's that all of these things take place in high school. Psychopath J.D. was Christian Slater at his crazy-charismatic best and Veronica was Winona Ryder's ultimate counterculture beauty.
3. This Is Spinal Tap (1984)
Rob Reiner's classic mockumentary follows the rockers' Smell the Glove tour and the mishaps and pratfalls of the band (including a doomed succession of drummers prone to bizarre fatal accidents). In addition to providing decades of quotable lines, it cemented stars Michael McKean, Harry Shearer and Christopher Guest—who ad libbed many of those lines—as three of the great comic geniuses of our time.
4. Spies Like Us (1985)
Dan Aykroyd and Chevy Chase as bumbling secret agents, sent off as decoys in a plan to bring down Soviet nukes? It's comic bliss. The pair engage in typical antics and pratfalls with a sly wink and a nudge to geo-political machinations. Fans of the duo will be happy to note that Aykroyd has announced that they're currently working on a new comedy together.
5. Raising Arizona (1987)
Ah, the romance: An ex-con (Nicolas Cage) and the cop who books him (Holly Hunter) fall in love and want a baby—so he kidnaps one for her, and mayhem ensues. Raising Arizona is absurdist dark comedy taken to dizzying heights under the expert direction of the Coen brothers.
6. Big Trouble in Little China (1986)
Let's just say that the suspension of disbelief is tested in this martial-arts yarn about a truck driver (Kurt Russell) who gets drawn into San Francisco's Chinatown underworld in pursuit of a kidnap victim, while battling a sorcerer and a warrior ghost. It's over the top and tongue in cheek and all good.
7. How to Get Ahead in Advertising (1989)
A hideous talking boil whispering ad-campaign mojo in your ear: What could be funnier? Or was that: What could be more dark and disturbing? This bizarre satire (the boil grows a mustache) starring Richard E. Grant is engrossing—and just plain gross.
8. Throw Momma From the Train (1987)
Funny guys Danny DeVito and Billy Crystal are good for the yuks, both slapstick and verbal, but the premise of this broad comedy—exchanging the murders of a troublesome ex-wife for an overbearing mother (Anne Ramsey, who was nominated for an Oscar in the role)—is no joke.
9. After Hours (1985)
Watching increasingly absurd-distressing things happen to hapless average guy Paul (Griffin Dunne) on what starts as a normal evening is one deliciously painful cinematic experiences. Martin Scorsese's dark comedy is an underrated gem.
10. Beetlejuice (1988)
Tim Burton's horror-comedy hybrid is a grotesque, whimsical delight, a fantasy classic that highlights the best of his trademark quirk and an inspired cast that is clearly having a whole lot of fun, including Michael Keaton, Alec Baldwin, Geena Davis, Catherine O'Hara and Winona Ryder in her breakthrough role.
Click here to see when SundanceTV is airing This Is Spinal Tap.