There Might Be Blood: Top Ten Most Memorable Proms in Film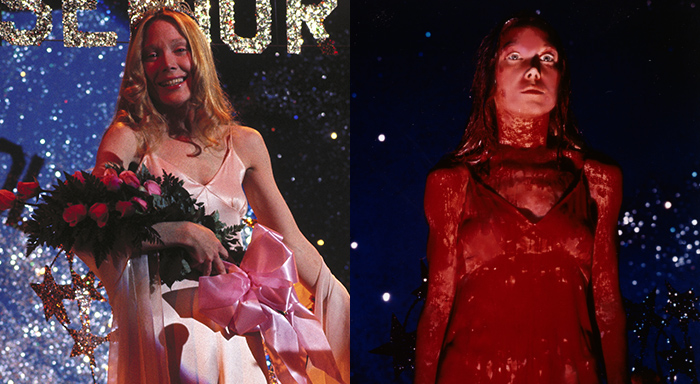 For many, prom is the pinnacle of their high school career. There's the romance, the decorations, the excuse to get fancy and, most importantly, the drama. In honor of this unrivaled event, we've compiled a list of the best proms on film. Vote for your favorite in the poll below.
1. Carrie (1976)
Talk about a memorable prom—Carrie has her first date and first murder(s) on the same night. The outcast is the object of a vicious prank when a bucket of pig's blood rains down on her just as she's named prom queen, but she has the ultimate revenge by using her telekinetic powers to take out almost everyone in attendance. And you thought your date's not-quite-matching corsage was bad.
2. Pretty in Pink (1986)
Perhaps the quintessential '80s prom flick, this Brat Pack classic nails all the woes of high school: unrequited love, cliques, getting dumped and making up. After being asked and un-asked by her popular, rich-guy crush Blane, Molly Ringwald's Andie decides to attend prom stag. Once there though, things get emotional when he asks for forgiveness. Andie and Blane's kiss in the parking lot is the stuff of teen dreams.
3. Never Been Kissed (1999)
Things go awry for Josie (Drew Barrymore) at both of her proms—she's egged by her date in the first, and revealed as an undercover journalist in the second. Scarred from her high school years, she's determined to do things differently while on assignment. But by the time the big day rolls around, Josie is confused—the popular guy is crushing on her and she's hot for teacher. It all blows up in her face, but our girl gets to have her cake and eat it too—just not at the prom.
4. Mean Girls (2004)
While infiltrating the reigning group of catty queen bees, Cady alienates her friends, her parents, her crush and earns the ire of the entire student body. But by prom night, she's evolved from new girl to mean girl to altruistic (by high school standards) girl. Her unorthodox prom queen speech manages to win the hearts of everyone in attendance. You go, Glen Coco.
5. American Pie (2004)
Oh, that old losing your virginity on prom night cliché. The four lead guys make a pact to get laid after the dance, and hilarity ensues as guards come down and drinks are consumed. See: Finch and Stifler's mom's pool-table hook up and Michelle's band camp confession. Oh, the nostalgia.
6. Jawbreaker (1999)
Similar to Carrie, prom season in Jawbreaker is a time for murder and revenge. Spring of '99 at Reagan High finds Courtney, head of the popular girl clique, covering up the murder of former reigning member Liz and ruining the lives of Julie and Fern. As Courtney accepts her prom queen title, her spurned friends get their revenge by playing her confession tape—"I killed Liz! I killed the teen dream! Deal with it!"
7. Footloose (1984)
The entirety of Bomont High School's purely joyous prom scene can be summed up with the following quote: "Let's dance!" Yes, Kevin Bacon, let's. After years of suffering under a strict "no dancing" policy, the teens in this small town rejoice when the law is overturned just in time for prom night. Bonus: Ren and Ariel finally get together (swoon) after a touch-and-go courtship.
8. Back to the Future (1985)
It's awkward enough attending your parents' prom, but Marty McFly has the even more uncomfortable task of setting them up. Having time-traveled to the year his parents first met, he inadvertently jeopardizes their future union and his own existence. This classic prom scene is where it all comes together: Marty helps his father stand up for himself and win his mother's affections. Witnessing his parents' first kiss while dancing to "Earth Angel" is sweet, but Marty's rock-and-roll performance for the 1955 crowd is priceless.
9. 10 Things I Hate About You (1999)
In this modern-day imagining of Shakespeare's The Taming of the Shrew, the prom scene has all the right ingredients: love blossoms, the hot jerk gets a knuckle sandwich, and unflattering bets are revealed. Seeing young versions of wildly talented actors (Heath Ledger, Joseph Gordon-Levitt, and Julia Stiles) don prom garb is much of this scene's appeal, but the off-beat romance between the two charmingly ill-tempered leads is equally endearing.
10. She's All That (1999)
The epic She's All That prom involves a mischievous bet, a stressful misunderstanding, and a choreographed dance to "The Rockafeller Skank." Oh, and Usher DJs. The romantic leads attend with other dates, but eventually Freddie Prinze, Jr. and Rachael Leigh Cook's characters reunite after fleeing the dance and  find their romantic chemistry is undeniable. Also: that dance number.
Need to feel better about your own prom's shortcomings? Check out the on-air schedule for Carrie, part of Thrillier Fridays on SundanceTV.