So Weird! So Good! Ten Eccentric Characters Only Geoffrey Rush Could Play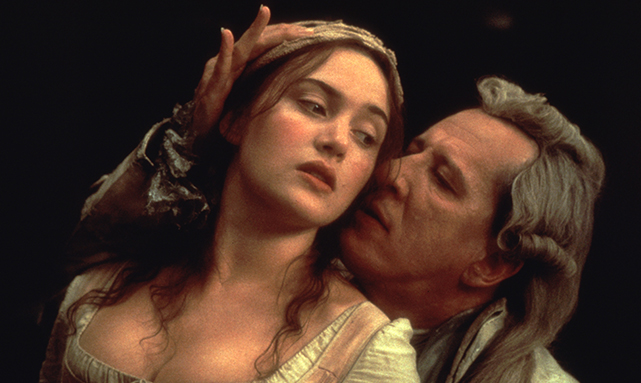 Masterful at portraying unusual characters, Australian actor Geoffrey Rush has been an artist, a revolutionary, a tailor and a pirate (among others); he's been Russian, Israeli, French and British (among others). To top it off, many of these characters are based on real people, making it that much trickier to get them just so. Vote for your top Rush role in the poll below.
1. David Helfgott, Shine
Rush was awarded a much-deserved Oscar for playing the real-life pianist whose celebrated gift was nearly lost to his struggle with mental illness. He synthesizes all the sweetness, the mania, the tortured brilliance of the man without ever resorting to caricature.
2. The Marquis de Sade, Quills
"Conversation," says the eponym of sadism, handing the young abbé (Joaquin Phoenix) a drink, "like certain portions of the anatomy, always runs more smoothly when it's lubricated." Rush makes his depiction of the Marquis' time in an insane asylum as much about political commentary and artistic expression as about sexual transgression and the freedom to fantasize.
3. Leon Trotsky, Frida
Exiled Russian Marxist revolutionary hero in his waning years? Of course that's in Rush's repertoire. Leon Trotsky's time in Mexico is charted from the vantage of his passionate affair with the artist Frida Kahlo (Salma Hayek) — who, along with her husband Diego Rivera (Alfred Molina), took Trotsky in and championed his cause.
4. Hector Barbossa, Pirates of the Caribbean
Rush has been the rumbly-voiced nemesis to Jack Sparrow (Johnny Depp) in all four (and counting) installments of this swashbuckling series. Menacing eyes ablaze and foul teeth front and center, he's the perfect comical foil for Depp.
5. Inspector Javert, Les Miserables
No singing in this adaptation of Victor Hugo's novel — this is most definitely not the Hugh Jackman-Russell Crowe version. There's no denying that Rush owns the role of the obsessed inspector who believes that redemption is a myth and will stop at nothing to take down his prey, Valjean (Liam Neeson).
6. Harry Pendel, The Tailor of Panama
Andy Osnard (Pierce Brosnan) is the essence of a smooth international spy; Harry Pendel (Rush), the unassuming tailor he recruits, is the opposite. But he is an incredibly sympathetic mix of hidden secrets, growing desperation and hapless blundering.
7. Lionel Logue, The King's Speech
Who else could stand up to a king with such disregard for rank or consequences? Lionel Logue's tough-love, no-ass-kissing strategy helped a royal overcome a lifelong speech impediment, and watching Logue (Rush) teach King George VI (Colin Firth) to cuss and, finally, find his own voice is mesmerizing.
8. Philip Henslowe, Shakespeare in Love
Mostly harmless and inept, Henslowe is the bungling proprietor of the Rose Theatre and patron of struggling playwright Will Shakespeare (Joseph Fiennes). Though his real-life character may have been more ruthless, Rush's Henslowe provides a gentle backdrop for the ill-fated love affair between Shakespeare and Viola (Gwyneth Paltrow).
9. Ephraim, Munich
Another film based on true events, this one about the aftermath of the kidnapping and execution of 11 Israeli Olympians at the 1972 Munich games. Israeli operative Ephraim (Rush) doesn't do the dirty work of assassinating the Palestinian terrorists suspected of carrying out the massacre himself; he just pulls all of Avner Kaufman's (Eric Bana) strings, putting the plan in place and remaining chillingly aloof from the moral dilemmas he raises.
10. Peter Sellers, The Life and Death of Peter Sellers
It seems somehow fated that Rush would take on the role of the prickly, hilarious, brilliant actor Peter Sellers (of Dr. Strangelove, Being There and the Pink Panther movies). He embodied the often tormented genius in a way that satisfies rabid fans of those films while paying homage to the complex man behind the performances.
Click here for a full list of Geoffrey Rush movies on SundanceTV.