Redford, Polanski, Lee, Jones… 10 Actor-Directors Who Excel at Both Arts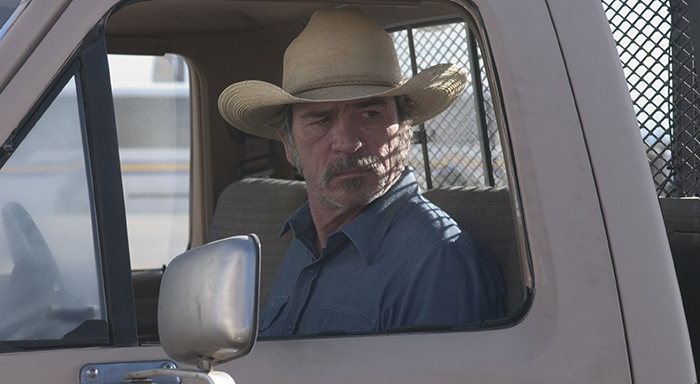 He won a screenwriting Oscar at the age of 26. Five years later, as a legitimate movie star, he acted in one of the most ridiculed films ever made and appeared on the cover of gossip rags. But eventually with Argo, Ben Affleck became recognized as one of the most talented and embraced directors in Hollywood. Affleck's journey from pin-up to auteur is unique but he's not alone. For instance…
1. Sarah Polley, Away From Her (2006)
With this heartbreaking film about the end of a lifelong relationship, Canadian treasure Sarah Polley transitioned from fresh-faced actress to experienced director in one fell swoop. Polley was nominated for a screenwriting Oscar for adapting Alice Munro's story of an elder couple who unexpectedly lose their connection when Fiona (Julie Christie), sensing the onset of Alzheimer's Disease, enters a nursing home. While there, her memory fades and she falls for another man, a surprise and challenge to her husband. As writer and director, Polley examines her characters with an uncommon empathy, using Alzheimer's as a reality rather than a story crutch.
2. Werner Herzog, Rescue Dawn (2007)
Anyone who's seen Encounters at the End of the World or Cave of Forgotten Dreams knows the only thing better than Werner Herzog's visual storytelling is his narration. Carrying his assured Bavarian accent and innate sense of drama, Herzog's voiceovers bring flavor to his documentaries that no one else could deliver. In 1997′s Little Dieter Needs to Fly, Herzog recounts the life of Dieter Dengler, a pilot who was captured by the Vietcong and later escaped; Rescue Dawn is his narrative version of Dengler's story, with Christian Bale in the starring role. Herzog's direction is tense, unforgiving and emotional, with Bale and Steve Zahn re-creating the harsh reality.
3. Vincent Gallo, Buffalo '66 (1998)
Before garnering critical attention with this skewed tale about a gambling ex-con and the girl he kidnaps to pose as his wife, Gallo was more than an actor. He was a NYC painter, musician and conceptual artist. For Buffalo '66, his first feature, Gallo wrote, produced, directed, composed and stars, sculpting an exciting, awkward spontaneity between him and co-star Christina Ricci. The National Board of Review awarded Gallo a special recognition for "excellence in filmmaking"… If "excellence" is shorthand for "original," we'd have to agree.
4. Al Pacino, Looking For Richard (1996)
In this documentary, Al Pacino is Richard III. Al Pacino is Al Pacino. And Al Pacino is director. For his foray into directing, Pacino recreates scenes from the very play in which he starred in 1979, discusses the intricacies of and cultural impact of The Bard, and hangs out with actors like Alec Baldwin and Kevin Spacey. Not bad work if you can get it. Hey, now that the remains of the actual Richard III have been found, how about a sequel, Al?
5. Tommy Lee Jones, The Three Burials of Melquiades Estrada (2005)
A big-screen mainstay since the late 1970s, Jones directorial breakthrough was this 2005 Texas drama written by Babel screenwriter Guillermo Arriaga. Jones stars as a rancher who embarks on a difficult journey over the border in an effort to get his friend, a murdered Mexican, back to his family and final resting place. At the 2005 Cannes Film Festival, Jones won the Best Actor prize—and might have won Best Director if not for Michael Haneke and the brilliant Cache.
6. Danny DeVito, The War of the Roses (1989)
By all measures, the diminutive DeVito is an unlikely screen star. Yet, since his supporting role in One Flew Over the Cuckoo's Nest, he has been a hell of a surprising presence. After helming short films and TV entries for over a decade, DeVito broke into feature directing in the late 1980s, reuniting here with Romancing the Stone cohorts Michael Douglas and Kathleen Turner for this biting comedy. As an affluent husband and wife (Douglas and Turner) dissolve their marriage, and go to hateful extremes to keep their piece of the pie. A satiric take on the greed of the '80s, the film finds DeVito telling the story as Douglas's attorney.
7. Richard Linklater, Me and Orson Welles (2008)
As a director, Linklater plays both sides of the commercial fence. He has a strong indie voice in flicks like Before Sunrise and Dazed and Confused, but also directs bigger, populist fare like The School of Rock and a Bad News Bears remake. This is somewhere in between, a peek at Orson Welles' 1937 stage production of Julius Caesar, with a charismatic high schooler (Zac Efron) who ends up part of the show. As for his own onscreen work… well, Linklater is the first person to appear in his acclaimed first film Slacker, pops up in fellow Texan Robert Rodriguez's Spy Kids, and plays pinball in a Vienna bar in Before Sunrise. (Look closely for that one.)
8. Roman Polanski, Frantic (1988)
Polanski is best known as a polarizing director but his little mug has been kicking around the big screen since the mid-1950s. In his most infamous movie role, "man with knife" in Chinatown, Polanski asks Jack Nicholson's Jake Gittes, "You know what happens to nosy fellows?" before slicing Gittes's nose open in one swipe. Polanski also appears in Frantic (as "taxi driver who hands over the matches"), a tense thriller starring Harrison Ford as an American in Paris who pokes his own nose where it doesn't belong, after his wife disappears from their hotel room.
9. Spike Lee, Do The Right Thing (1989)
Spike Lee, who's been in the game as a producer, writer, actor and director for over three decades, is known for challenging stereotypes both behind and in front of the lens. His career has had an explosive cultural impact and earned him two Oscar noms for 4 Little Girls and Do The Right Thing. In the latter, Lee portrays a delivery man, working for an Italian-owned pizzeria in a predominantly black Brooklyn neighborhood. The movie's entirety takes place on the hottest day of the year, as racial tensions rise to a simmer and personalities collide. Lee also produced, wrote, and directed this timeless gem.
10. Robert Redford, Lions For Lambs (2007)
As an actor in the 1970s, Redford brought his good looks and confident charm to smart political movies like The Candidate and Three Day of the Condor. In 1980, he proved he could translate his expertise as a dramatic actor to the role of dramatic director, flawlessly, winning an Oscar for his first film, the devastating Ordinary People. In Lions For Lambs, his return to political commentary, Redford directs a trio of connected tales about the façade of politics, the idealism of serving one's country, and the dangers—and failures—of war.
Check out which Robert Redford movies are playing this month on SundanceTV.