Stuck? Need to Get Inspired (Without Getting off the Couch)? Marathon the Following 10 Movies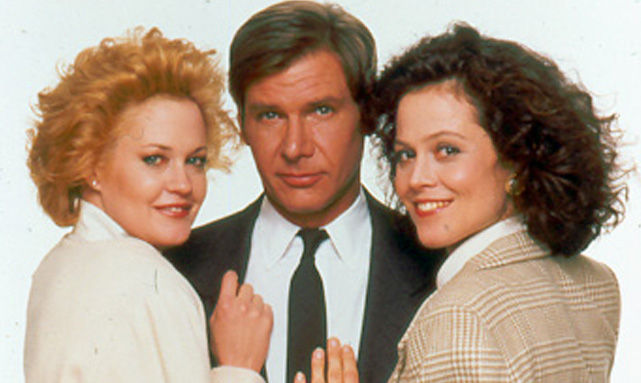 Life is tough. Family dramas, workplace dilemmas, emotional dead ends — sometimes you hit a roadblock at every corner. When you feel like you need rethink your entire course, take a cue from one of these characters who have been there, done that — and then some. One of these films just might change your life.
1. Hoop Dreams (1994)
Although originally intended to be a short about inner-city high school boys being recruited on the playgrounds, the filmmakers quickly changed their plans. Taking 250 hours of footage and following two families over five years, the resulting three-hour film reveals the most intimate and painful moments of the nearly-impossible dream of playing pro ball. William Gates and Arthur Agee face down welfare, drug deals, debts, and a rocky assimilation into a predominately white school in their struggle to grow up in — and get out of — the ghetto.
2. Karate Kid (1984)
Director John G. Avildsen takes his Rocky formula and applies it to high school — same underdog hero, different arena — and comes up with a classic that can't be beat. Ralph Macchio is Daniel, the new kid in town who gets roughed up for dating the wrong girl and Pat Morita is his Yoda-like karate teacher, Mr. Miyagi. The pair forms an unlikely­­­ friendship in which Daniel learns to use the force, ur, ancient ways of martial arts, to navigate ­through life. And, not incidentally, how to best a bully.
3. 127 Hours (2010)
In the role that saw James Franco nominated for an Oscar, Aron Ralston is an outdoors enthusiast used to going it alone. But the adrenaline junkie meets his match when his sense of independence overrides his common sense, and he finds himself trapped — as the title of the book the film is adapted from states — between a rock and a hard place. Aron chips away at the boulder that has ensnared him — hallucinating, drinking his own urine, and almost resigning himself to death. But a vision of the future gives him the will to survive, and he conjures up the courage to take extraordinary measures to escape what he had considered his fate.
4. Conviction (2010)
What happens when you take a would-be Lifetime movie and cast A-list Hollywood actors? You get Hilary Swank as Betty-Anne Waters, a high school dropout who puts herself through law school so that she can overturn her brother's life sentence, and Sam Rockwell as Kenny, the charming convict doing time for murder. The "you-wouldn't-believe-it-if-it-wasn't-true" story unfolds over two decades and many trials, but endurance and family allegiance win the day.
5. Erin Brockovich (2000)
A down-but-never-out Julia Roberts stars in the title role – an unschooled single mom who wrangles herself a job in a law firm and uses her brains, brazenness, and . . . other things ("They're called boobs, Ed."), to uncover some seriously shady business by the local power company. The determined whistleblower surprises everyone by scoring the largest payoff ever made in a civil lawsuit. Now that's some true grit.
6. Working Girl (1988)
Fresh off the Staten Island Ferry, Tess (Melanie Griffith) is not content to be on the bottom rung of the corporate ladder for very long. She manages to out-scheme her scheming boss ("I'm not going to spend the rest of my life working my ass off and getting nowhere just because I followed rules that I had nothing to do with setting up."), snag a guy (Harrison Ford no less), and land the dream job.
7. Shawshank Redemption (1994)
Frank Darabont's first feature film was a box office flop — but a critical success that racked up no less than seven Oscar nominations. The story follows Andy Dufresne (Tim Robbins) as he is (wrongfully, he maintains) convicted of a double murder and swiftly introduced to the horrors of prison life. Rapes, beatings, and corruption form his new day-to-day existence. But the heart of the movie is not the horrors behind bars, it's the tale of the friendship between Andy and prison-lifer Red (Morgan Freeman), and how they devise a way to hold on to their sense of integrity and self-worth under the very worst of circumstances.
8. The Fighter (2010)
Despite the title, David O. Russell's film is less of a boxing epic and more of a family drama — a very, very dysfunctional one. Christian Bale won an Oscar for his portrayal of the crack addict brother, and Melissa Leo was honored for her part as the misguided mother trying to fund the family's bank accounts by forcing her youngest son back into the ring. In the middle of the storm is Mark Wahlberg as would-be contender Micky Ward, who's being challenged to cut the ties that bind. But it's only when they all learn to work together that they can all finally move forward.
9. Lean on Me (1989)
One of the many films in the subgenre of "influential teacher" movies (To Sir, with Love, Stand and Deliver, Dead Poets Society, Dangerous Minds, Precious), Lean on Me features Morgan Freeman in one of his first starring roles. As Joe Clark, the controversial principal of a hell-on-earth high school, he expels troublemakers, locks the doors against drug dealers, rules with a bat, and manages to gain respect — and passing grades — from his students.
10. Good Will Hunting (1997)
In one of the most brilliant and moving coming of age stories, Will (Matt Damon) is an odd man out — a reluctant genius who stubbornly refuses to move beyond his Southie roots. He's content spending his days as a janitor and his nights in bar fights, but his friends won't let him. With the help of a therapist (another reluctant genius with some emotional baggage of his own), he finally learns to stop hiding behind his fears and unlocks his true potential.
Catch Melanie Griffith taking on NYC in Working Girl on SundanceTV.