MILFs (Moms in Legendary Films), Part 3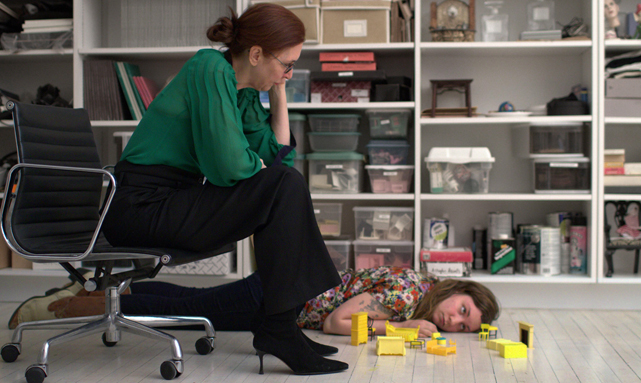 With Mother's Day on the horizon, we bring you MILFs Part 3: Ten more "Moms In Legendary Films." This time around, we're touting moms who hustle and fight for their children 'til the end. Be sure to vote for your favorite MILF in the poll below.
1. Mrs. Gump, Forrest Gump
Sally Field's Mrs. Gump sets the gold standard for parenting against the odds. She's a bold champion who cares less about shielding her special needs child from the world, and more about imparting ethics so he can always find his way. To wit: "Life is like a box of chocolate, you never know what you're gonna get." The way she sees it, there's no reason that her son, on the slower side and crippled during his youth, can't have just as rich of a life as any other child. Clearly her mothering was a success what with Forrest's college scholarship, his Medal of Honor, his two trips to the White House and his thriving shrimping business.
2. Queenie, The Curious Case of Benjamin Button
Benjamin Button's curious tale matches Forrest's in sheer scope–his extraordinary life takes him around the world and back again. He too needs a strong-willed, big-hearted mother and he gets one in nursing home worker Queenie (Taraji P. Henson) after his biological mother's death in childbirth. It's Queenie who finds the baby, brings him home, and sees through his strange physical maladies to the heart within.
3. Florence "Rusty" Dennis, Mask
Cher's free-spirited, hard-living biker chick Rusty is another tough mother dedicated to helping her son overcome the odds. In this case, son Rocky (Eric Stoltz) suffers from a rare cranial defect which gives him a frightening appearance. Rather than help her son hide from the world, Rusty is his advocate fighting to get Rocky into public school and encouraging him to make the most of his life, despite his looks. Despite her own flaws and the addictions that plague her personal life, Rusty is truly a mom with a heart of gold.
4. Wendy Torrance, The Shining
In addition to being a film about a bad dad, Stanley Kubrick's horror masterpiece The Shining is also a film about a bad-ass mom. Wendy Torrance (Shelley Duvall) finds herself living every mother's nightmare when her husband goes on an axe-wielding rampage, determined to murder her and her son Danny. After failing to get out a distress call, finding the hotel's trail vehicle sabotaged, and watching her maniacal husband kill the only person who comes to help, Wendy rises to the occasion and goes into full protective-mother-survival mode. It's no small feat that she manages to keep her child safe despite the powder keg of insanity igniting around her. Call her a BAMF: Bad Ass Mother Fighter.
5. Jackie Harrison, Stepmom
Jackie (Susan Sarandon) is the divorced mother of two in this 1998 tear-jerker, and her role as "mom" is exhausting just to write about. On top of trying to connect with her angsty teenage daughter and to keep tabs on her mischievous son, she must compete with their new stepmom, the young and vivacious Isabel (Julia Roberts), who has a cool factor that Jackie lacks. Oh, and on top of that, she has terminal cancer, and has to find a way to prepare her children for life without her. This movie is the perfect reminder to give your own mother a call back!
6. Helen Parr (Elastigirl), The Incredibles
Having a sullen teenage girl, a rambunctious little boy and a new baby is undoubtedly a handful, but factor in each kid's untrained superpowers and you have an idea of what's on the plate of Helen Parr (Holly Hunter). Thankfully, she has a leg up on the average stay at home mom: She's secretly "Elastigirl."  So aside from the basic maternal concerns, like packing lunches, she's also helping to save the world.
7. Siri, Tiny Furniture
In Lena Dunham's pre-Girls feature film Tiny Furniture, she acts alongside her real life mother Laurie Simmons, who plays her fictional mother, bohemian artist Siri. Lena's aimless post-grad character Aura can't seem to commit to anything other than making her mother's life as difficult as possible. After college, she moves back into Siri's TriBeCa loft and wreaks havoc. But, Siri's goddess-like patience prevails. While Aura doesn't know how good she has it with her endlessly forgiving mother, we can rest assured that Lena does!
8. Meg Altman, Panic Room
Panic Room stars a fearless Jodie Foster as ordinary NYC momma Meg, who's thrown into the middle of an extraordinarily violent home invasion. Meg and her daughter Sarah (Kristen Stewart) receive three unexpected guests the first night they spend in their new apartment: burglars under the impression that $3 million dollars worth of bearer bonds are hidden in the home's "panic room." Meg instantly switches into mother-bear mode, and it's a good look on her: she proves herself to be brave and startlingly resourceful. Just like Wendy Torrance's husband learned in The Shining, Meg's foes learn never to mess a mother's cub.
9. Raimunda, Volver
The Almodovar film Volver is all about mothers. Protective mothers, regretful mothers, estranged mothers and even ghost mothers–they're all present and delightfully tangled in this tale of a broken family's hard-earned redemption. Penelope Cruz received an Oscar nom for her role as fiery mom Raimunda for a good reason. Cruz's portrayal proves that it's never too late for a mother and child to reconnect, and share a meaningful (if tumultuous and passionate) bond.
10. Sybil Stone, The Family Stone
Matriarch Sybil Stone (a deliciously snarky Diane Keaton) may not be the warmest mother, but the unique love she has for her five adult children is never in doubt, even when shown in questionable ways. Beneath Sybil's abrasive exterior is a vulnerable, terminally ill woman, and while her final motherly lovin' may be tough to swallow, it all comes from a deep, sincere longing for her kids to be happy. Don't be hatin' on Ms. Stone!
Some fight for their children, others fight against their children…Tune in to SundanceTV this Sunday for a Mad for Mother's Day marathon featuring moms gone crazy.