MILFs (Moms in Legendary Films), Part 2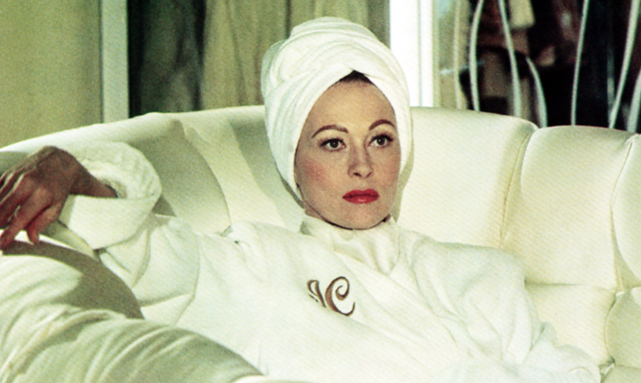 Happy Mother's Day! In honor of Good Ol' Mom, we present you with Part Two of our list of Top 10 MILFs (which translates as Mothers In Legendary Films; don't get any funny ideas). Part One covered heroic and villainous moms in film: this time around, we're doing zany, wild, perhaps misunderstood, and beautifully unique moms. Because when it comes to mothers, we've all got a different story. Vote for your favorite of these mommas in the poll below.
1. Ed, Raising Arizona
"GIVE ME THAT BABY YOU WARTHOG FROM HELL!"
Holly Hunter made the top 2 moms in this top ten list! Because well, she's awesome. Aside from Raising Arizona being one of the greatest Coen Brothers' classics, we just simply love the determination of Ed to be a mother. Who thought that baby-snatching could lead to such much trouble, so much hilarity, so much heartache, and so much brilliant film-making? Ah, the messes we create for ourselves. Classic Cohen Brothers.
2. Ada McGrath, The Piano
"There is a silence where hath been no sound / There is a silence where no sound may be / In the cold grave, under the deep deep sea."
A woman is cast onto the shores of desolate New Zealand — the loneliest place on earth. Ada McGrath (Holly Hunter) is a mute pianist, set adrift in a new world, accompanied only by her daughter. A single mother who passionately loves her child, Ada must learn to protect her daughter without the power of speech. Music as language: music as love — this is one of the most beautifully strange "mom movies" ever made.
3. Momma, Throw Momma from the Train
"She's not a woman; she's The Terminator!"
Danny DeVito and Billy Crystal star in a remake of Alfred Hitchcock's Strangers on a Train. …Wait. What? Yes, this really happened, and it's great. DeVito plays a sad-sack homebody who lives with his terrible Momma; so he hatches an increasingly desperate plan to kill her. But along the way, he learns that his Momma is really a good woman underneath it all, even if she does repeatedly knock Billy Crystal unconscious.
4. Elena Hood, The Ice Storm
"When you think about it, it's not easy to keep from just wandering out of life. It's like someone's always leaving the door open to the next world, and if you aren't paying attention you could just walk through it."
Ah, the 1970s. Shag carpeting, swinger's parties, Watergate, etc. The American Dream might be dead, but long live Free Love! Elena Hood (Joan Allen) is the mother in a traditional nuclear family that is struggling to find a life of her own — while also dipping into partying, adultery, and some really, really bad decorating schemes.
5. Etheline Tenenbaum, The Royal Tenebaums
"I always wanted to be a Tenenbaum, you know?"
"…Me too. Me too."
"…Doesn't mean what it used to, though, does it?"
Etheline Tenenbaum (Anjelica Huston) raised a family of eccentric geniuses; three precocious children who just can't adapt to the real world. Now, Etheline has to hold everything together… as her former husband and children come trickling back to her house. Director Wes Anderson's third film raises some important questions: what is family; what is love; can you survive a bizarre childhood and still become a functioning adult? Answer: Maybe, but doubtful.
6. Joan Crawford, Mommie Dearest
"I told you! No… wire… hangers! EVERRRR!"
It's the real-life story of tyrannic mother/actress Joan Crawford, who deals with her declining career by taking everything out on her adopted daughter. This film is a legendary camp classic; a portrait of one of the scariest moms of all time. Still, it makes for a great Mother's Day flick — watching it will make you appreciate your own mother all the more.
7. Beatrix Kiddo, Kill Bill
"You didn't think it was gonna be that easy, did you?" "…You know, for a second there — yeah, I kinda did."
Quentin Tarantino's fourth film follows the quest of a single mother — a mom in search of the child that she never knew–Kung-fu and samurai vengeance-style. The film is Tarantino's homage to the trashy exploitation pictures that he loved as a teenager — and it achieves, like many Quentin films, a heightened crazy greatness.
8. Big Edie, Grey Gardens
"Mother, you don't have enough clothes on."
This honest-to-god documentary follows the lives of "Big Edie" and "Little Edie" Bouvier Beale — a mother and daughter pair who lived in total isolation in a crumbling mansion for fifty years. As the raccoons, fleas, stray cats, and garbage accumulates in their palatial dump, Big and Little Edie struggle to keep up appearances, eating pâté amid the ruins, with only each other to depend on… This doc is train-wreck eye candy.
9. Beverly Sutphin, Serial Mom
"Our mother is Charles Manson!"
Being the perfect mom can be a full-time job, especially when you add serial killer to the mix. In John Waters' cult classic, Kathleen Turner plays mild-mannered housewife Beverly Sutphin. She has a loving family, a perfect home, and one small secret — she's a psychotic serial killer who will murder others at the slightest provocation.
10. Zelly, Zelly and Me
"It's just you and me now."
Isabella Rossellini, creator and star of MAMMAS, plays the lead in Zelly and Me. After the death of her parents, five-year-old orphan Phoebe is sent to live with her wicked grandmother. There, she's rescued by "Zelly" (Rossellini), her imaginative French governess. Zelly loves Phoebe as only a mother could, and in desperation, she kidnaps Phoebe to save her from abuse. …But who does Phoebe belong with: her perfect substitute "mother," or her real family?
Bonus: David Lynch appears in his first real acting role.
Tune in to SundanceTV this Mother's Day for a marathon of movies with other memorable moms: Psycho, Rosemary's Baby and The Others .