MILFs (Moms in Legendary Films), Part 1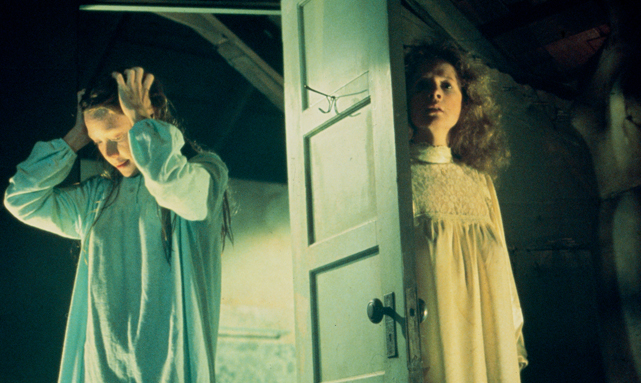 Absolutely everyone out there has something to say about how to be the best mom, and that's why it's best to fall back on these sterling examples of maternal heroism (and in some cases, villainy) in these Moms In Legendary Films. Parenting can be tough, but these women can more than handle it.
1. Ellen Ripley, Aliens
Sigourney Weaver is still the silver screen mother to beat. Not only did she score an Oscar nomination for this very gory action/sci-fi flick (something that is just not done), her character's arc is studied today in screenwriting classes—and for good reason. Indulge our film-nerdiness for just a moment: in James Cameron's director's cut, Ellen Ripley learns that since she accidentally floated through space in hyper sleep for 85 years after the first film, everyone she knew on Earth, including her daughter, is dead. So when she meets young Newt, the lone survivor of the human colony on LV-426 (a planet with serious pest control problems), a mother-daughter bond is established almost immediately. Ripley is talking about Newt in that iconic moment in the film's climax when she says to the Alien Queen (another notable Hollywood mother), "Get away from her, you BITCH!" This is the mother lion protecting her cub, and it's unclear which of the mommies here is more ferocious. As a side note, it's fairly safe to assume that Cameron modeled his revamped and super kickass mamma Sarah Connor (played by Linda Hamilton) in T2: Judgement Day after Ripley, and in the climax of the Alien franchise's third film Alien 3, Sigourney strikes the now timeless pose of maternal surrender over a flaming furnace just as she, er, births a pesky chest-bursting critter.
2. M, Steel Magnolias
Long before becoming mamma hen of ABC's Brothers and Sisters, Sally Field did back-to-back films Steel Magnolias and Not Without My Daughter, in which she portrayed quintessential devoted mothers, the defiantly American, against-all-odds kind. Magnolias has already become the stuff of legend (or cliché, depending on who you ask), but Field as M'Lynn Eatenton grappling with her daughter's illness and death is unadulterated tearjerker heaven. 
Playing the mom card has always worked well for Field, who went on to play Forrest Gump's mom among others (we'll choose to forget Eye for an Eye).
3. Aurora Greenway, Terms of Endearment
The perfect counterpoint to Sally, of course, would be her Magnolias co-star Shirley MacLaine, who offered up an equally unforgettable mother in the same decade: the immature and self-obsessed Aurora Greenway in Terms. There is nothing quite as giddy as watching Shirley MacLaine lose her temper, which she does brilliantly (and often) in this one. Sure, you definitely wouldn't want to call this woman mommy, but she's damn fun to watch.
4. Mrs. Robinson, The Graduate
This list wouldn't be complete without Mrs. Robinson. What Anne Bancroft did for older (sorry, mature) women—and 1960s female sexuality full stop—is just too significant. Mothers can be sexy too, and don't you forget it. Nylons were never the same again.
5. Dolores Claiborne, Dolores Claiborne
Based on a non-supernatural Stephen King novel, this often-overlooked gem directed by Taylor Hackford shows just how far a mother will go to protect her child. Kathy Bates (yes, she thought taking on another King character might be a good idea after winning an Oscar for Misery) plays a tough-talking and very hard-edged Maine woman who is accused of multiple murders over the years. When her daughter (a particularly drug-addled Jennifer Jason Leigh) comes home, the past gets rehashed and dark family secrets come out to play, revealing a mother who had no choice but to fight to the death against a monstrous husband (the excellent David Strathairn). The film's climax is gratifying to say the least, as is the small but heartfelt final moment when a resentful daughter finally acknowledges that no matter what her mother did, she did it for her.
6. Margaret White, Carrie
Mothers and their teenage daughters don't have the best track record of getting along, but the twisted relationship between Margaret and Carrie takes it to the next level, and then the next level after that. Margaret is aggressively overprotective of her girl, and on top of that she's a religious fanatic prone to locking Carrie in prayer closets. It's easy to blame Carrie's peers for their cruelty at school, but that's just kid stuff compared to Margaret's psychotic antics at home. Once Carrie loses control of her telekinesis and gives in to her rage, she saves mother Margaret's brutal death for last.
7. Mrs. Bates, Psycho
Let's be honest: Norman Bates' mother is the most important character in this entire film. Everything revolves around her. So what difference does it make that she's been dead for ten years and counting?? Absolutely no difference! And you better not argue with Mother. We wouldn't want her to get mad. Because as Norman says, "She just goes a little mad sometimes. We all go a little mad sometimes. Haven't you?"
8. Kate McCallister, Home Alone
This family fun-for-all pretty much boils down to this: a harried mother must wend her way through various shenanigans (as only the late John Hughes, who actually wrote this film, can concoct) to redeem the love of her abandoned son. The always-brilliant Catherine O'Hara—who gave us one of the wackiest mothers of all time in Beetlejuice—brilliantly captures a defining moment on the plane toward the beginning of the film, when she finally realizes they forgot Kevin at home. She betrays an eternal truth: even parents can screw up, and royally.
9. Abileen Clark, The Help
Viola Davis and company also do a wonderful job reminding us that the one you call mommy doesn't always end up being she who birthed you. As a devoted maid in 1960s Mississippi, Davis cares for her inept white boss's child as her own (and she has those back home, too). When she is unjustly fired from her job later in the film, her heartbreak over losing the baby girl who has become her de facto daughter is palpable. It's worth noting another mother nailed by Viola, in 2008′s Doubt. In just one scene she steals the entire film, as the mother of a 1960s choirboy who is prepared to accept the possibility of something unspeakable in order to keep her son in a place where he won't succumb to the racism and classism she knows all too well. A mother's love may not always be logical, but boy, it can be fierce.
10. Bree Osbourne, Transamerica
As Bree Osbourne, Felicity Huffman took on a whole lot in this acclaimed role: a road-tripping male-to-female transsexual who unwittingly discovers along the way that she has a child. From oblivious father to an ultimately caring mother, Huffman handled an extraordinary double gender reversal with aplomb, teaching us a little something about parenting at the same time—uteruses (uteri?) and vaginas aside, real mothering is all about the heart.