Beyond Bond: 7 Great Action Pics Starring Actors Who Played 007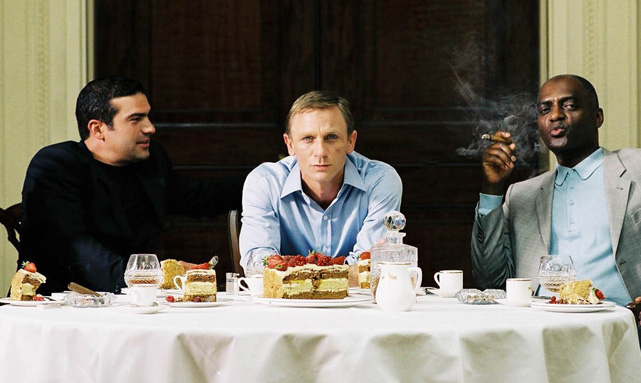 Each actor to step into MI6 Agent Bond's shoes has made the role his own–we've had some suave womanizers (Roger Moore, Pierce Bronsan) and some fierce menacers (Sean Connery, Daniel Craig)–and through it all the action franchise has remained a swaggering and unstoppable force at the box office. It's a lot of pressure to be cast as a Bond, and it's no surprise that the lucky men who've filled the role each needed some action-thriller practice to cut their teeth. Below we've compiled a list of our favorite action pics starring Bond actors, before their stint as the legendary spy.
1. Layer Cake with Daniel Craig
Two years before his first Bond pic Casino Royale, the actor was being primed for stardom via this well-crafted British crime thriller. Craig plays "XXXX," a London drug kingpin on the verge of retirement who finds himself knee-deep in the drug trade. With its impressively styled action sequences, Layer Cake is more than 007 1.0. It's also a modern action classic.
2. The Fourth Protocol with Pierce Brosnan
Right as he was leaving Remington Steele (and nearly a decade before GoldenEye), Bronsan tested his big screen secret agent chops with this British Cold-War spy film about a KGB agent determined to detonate a nuclear device in the UK and sway a Soviet election. Full of adrenaline pumping plot twists (and co-starring Michael Caine), this flick is so Bondian, it's practically a knock-off. But it's still a hell of a ride in its own right, too.
3. Flash Gordon with Timothy Dalton
This classical actor wasn't just doing Wuthering Heights and Jane Eyre before he entered Ian Flemming land. He also took on the colorful role of extra-terrestrial Prince Barin in this cult classic, perhaps best known for its soundtrack by Queen. As the MI6 agent, Dalton may have been a bona fide badass on Earth, but here, he takes the thrill ride to outer space. Moonraker's got nothing on him!
4. The Man Who Haunted Himself with Roger Moore
Before his twelve year stint as Bond began in 1973, Roger Moore enjoyed a trippy, headlining role in this British psychological thriller. While he starts off as prim and proper city worker Harold Pelham, Moore eventually gets to show his more dashing side when his character is brought back to life in an alternate universe. Moore's performance here is role is widely considered to be one of his best in a non-Bond film.
5. Who Saw Her Die? with George Lazenby
Yes, he only made one Bond film: On Her Majesty's Secret Service, and prior that George Lazenby boasted only one acting credit—an appearance on General Hospital. Perhaps his experience filling in for Sean Connery as the legendary secret agent gave him a taste of something he liked. In the 1972 thriller Who Saw Her Die?, Lazenby plays a father on a mission to catch his daughter's still active killer, and while this mission is a bit more personal than his turn as suave Bond, similar investigative (and badass) skills are put to the test. Perhaps Lazenby could have done with another couple rounds in the spy franchise.
6. The Longest Day with Sean Connery
Arguably the most universally beloved Bond actor, Sean Connery has enjoyed a thriving action-movie career outside of the franchise. His last film before he became 007 is The Longest Day, a WWII masterpiece about the horrors of the Normandy landings. In the definitive D-Day picture, Connery's joined by some serious heavyweights – John Wayne and Henry Fonda – who probably had no idea that their young costar was about to trump them at the box office…repeatedly.
7. Indiana Jones and the Last Crusade with Sean Connery
Casting Sean Connery as Indiana Jones' father was a brilliant bit of stunt casting, as one generation's action hero teamed up with another's (Harrison Ford). Steven Spielberg's sequel to Raiders of the Lost Ark is also undeniable proof that there's action-filled life after Bond as well as before it, for those actors great enough to take it.
Want to see the current 007 Daniel Craig in some pre-bond action? Check out the on-air schedule for Layer Cake, part of Thrillier Fridays on SundanceTV.