What Does Wes Anderson Owe to "Harold and Maude" and 8 Other Influences?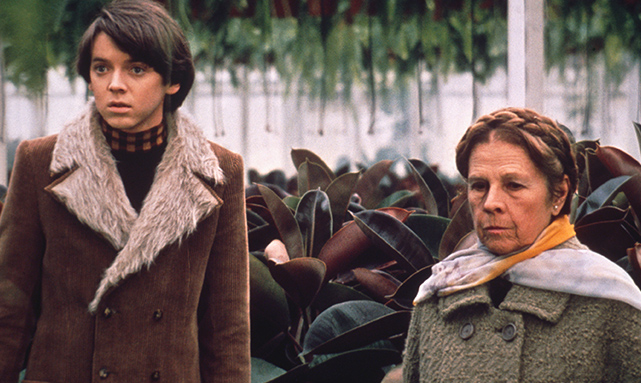 Wes Anderson has been making feature films since the '90s (Bottle Rocket, Rushmore) so needless to say his influences date further back than that. It's a testament to this auteur's considerable talent that although he's supremely nostalgic, he's by no means derivative. He doesn't rob his predecessors. He nods to them. So to begin… (Cue the Futura title card bearing the words "Chapter 1:")
1. Francois Truffaut
This godfather of the French New Wave has influenced countless filmmakers, Anderson very much among them. Anderson shares Truffaut's fascination with childhood, and how wrongs committed by youth (or at the very least, the innocent) can somehow still be just. Both directors seem to be searching for where the boundary lies between innocence/experience, right/wrong, childhood/adulthood — Rushmore and The Royal Tenenbaums on one hand, The 400 Blows and Jules and Jim on the other.
2. Paper Moon (1973)
Here's another precocious child caper, this one featuring Oscar-winning Tatum O'Neal as the snarky sidekick to (off-screen dad) Ryan O'Neal in a Depression-era piece. (The time period is as retro for the '70s as the '60s are for Anderson today). Side note: Paper Moon's production designer Polly Platt was later a producer on Anderson's first feature, Bottle Rocket. Coincidence?
3. Martin Scorsese
Scorsese is often quoted as loving Wes Anderson's pics, perhaps because he recognizes a kindred spirit, equally controlling and detail-obsessed. But Matt Zoller Seitz for The Museum of the Moving Image calls attention to another spot-on reason these two auteurs can be likened to "a street-tough dad and his college-bound favorite son" — their much-loved use of slow-motion.
4. Harold and Maude (1971)
If disillusioned and precocious youth is Wes Anderson territory, then Hal Ashby's 1971 cult hit — still revolutionary after all these years — is a definite influence, too. Many story elements from H&M appear again and again in Anderson's films: an obsession with "how things used to be," a fascination with the secrets our elders, a quaintly existential crisis involving mortality and self-worth. Harold could live in a Wes Anderson film easily!
5. The Graduate (1967)
In some ways, Rushmore can be considered a deadpan riff on a pivotal plot point in Mike Nichols' masterpiece — namely the May-September relationship slated for failure. Additionally, The Graduate's remarkable tonal shifts between searing drama (Elaine's discovery of Benjamin's secret) and madcap comedy (their climactic wedding escape) seem like a trail map for Anderson.
6. Holy Mountain (1973)
Alejandro Jodorowsky's wacky 1970s religious tale of an interstellar cult in the wilderness shares strong visual similarities with Anderson's films, both in the diorama construction of shots and some eye-popping, high-contrast colors. Here as in Anderson, everything seems worn-down but impressive. Holy Mountain's nautical scene also seems to creep into Anderson's The Life Aquatic with Steve Zissou. Think the red Zissou caps.
7. The Magnificent Ambersons (1942)
Who didn't Orson Welles influence? But now watch his 1940s classic followed by The Royal Tenenbaums, and try not to notice how the equally tragic portraits of once-illustrious American families use similar storytelling techniques. Narration by a rich baritone? Apparently, Alec Baldwin is the closest we'll get to a modern-day Welles on that front.
8. Pierrot Le Fou (1965)
Obviously, a number of French films appear on this list, if for no other reason than Anderson likes to slip old French tunes into his work. (Plus, Hotel Chevalier, the prologue to Darjeeling Limited, has French New Wave written all over it.) As mentioned in The Wrap's review of Moonrise Kingdom, this landmark Godard shares several plot points with Anderson's film: Both deal with young lovers on the lam, first and foremost.
9. A Charlie Brown Christmas (1965)
The fun of Anderson's movies is how they borrow a little bit from everywhere but mostly from the '60s to the '80s. So why shouldn't the animated TV perennial be given its due? The wistfully melancholy youngsters of Charles Schulz's world are not-so-distant cartoon relatives of Anderson's characters. And doesn't Linus Van Pelt sound like the name of an Owen Wilson role?
Author: Dan Heching
Click here for the full on-air schedule for Harold and Maude, on SundanceTV.