Giving an Unsung Decade Its Due: The '90s in Movies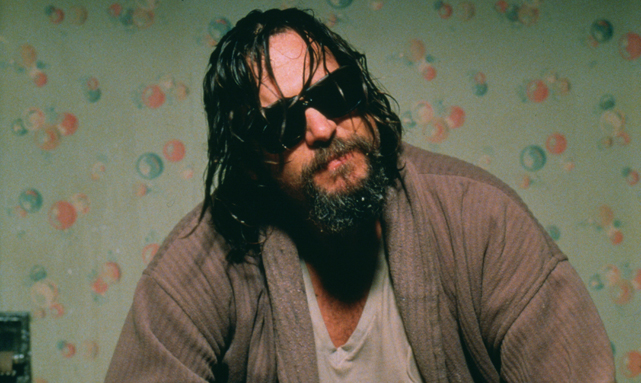 Do the '90s seem less memorable that the '80s (so rad) or the '70s (so groovy) to you? Take a moment and reconsider the decade which features some of the most offbeat characters in movie history. Suddenly, the '90s seem a bit more memorable, right?
1. The Dude (Jeff Bridges), The Big Lebowski (1998)
It's hard to imagine a more iconic, more offbeat character from the '90s—or any era—than Jeff Lebowski, a perpetually bath-robed bastion of chillness in search of justice for his peed-on rug (because, hey, "it really tied the room together"). A fan of weed and White Russians, he made bowling an art form and inspired a subculture of devoted fans who still attend annual Lebowski Fests.
2. Ada McGrath (Holly Hunter), The Piano (1993)
The mute woman at the center of Jane Campion's extraordinary story is one of the most unconventional heroines in film history: a young mother (Hunter won a Best Actress Oscar) who, despite being shipped off to the wilds of New Zealand for an arranged marriage, manages to fall in love (not with her husband) through a shared passion for music and ultimately receives a most unexpected salvation.
3. Verbal Kint (Kevin Spacey), The Usual Suspects (1995)
Through flashbacks and interrogation, Verbal (in a role that won Spacey his first Oscar), a seemingly meek and ingratiating small-time con artist with cerebral palsy, tells the story of the mighty and terrifying criminal kingpin Keyser Söze. Verbal is a most unusual conspirator (and narrator), and Söze… well, he is definitely not what we expect.
4. Ghost Dog (Forrest Whitaker), Ghost Dog: The Way of the Samuri (1999)
Like Vincent Vega, Ghost Dog is a mafia hit man; but he's also a samurai… and he keeps pigeons… and his best friend is an ice-cream man who speaks a different language… and he throws down some heavy philosophy along with the sword- and gun-play.
5. Vincent Vega (John Travolta), Pulp Fiction (1994)
Quentin Tarantino's postmodern classic is populated by a whole city of offbeat types, like the longhaired hit man Vincent Vega, fan of heroin and anachronistic attire. Not much fazes Vincent, including accidentally shooting an informant in the face while driving through city streets.
6. Dawn Wiener (Heather Matarazzo), Welcome to the Dollhouse (1995)
Awkward to the extreme—even by seventh-grade standards—Wienerdog may be scorned and mocked mercilessly by her classmates and family, but she's no doormat. She knows herself pretty damn well and has a good sense of self-worth despite it all. She's an unlikely role model, and yet that's just what she is.
7. John Malkovich (er, John Malkovich) in Being John Malkovich (1999)
One of the oddest moments in one of the oddest movies ever conceived is when Malkovich crawls through the tunnel into well, himself, and plops down into a scene of indescribable and unforgettable bizarrity as everyone and everything is Malkovich. A classic head trip in a one-of-a-kind comedy.
8. Sailor Ripley (Nicolas Cage), Wild at Heart (1990)
It should come as no surprise that Sir Surreal himself, David Lynch, is a master of creating offbeat characters, including the fast-talking, Elvis-loving Sailor, who finds himself in one violent predicament after another but who always looks sharp. "Did I ever tell you that this here jacket represents a symbol of my individuality and my belief in personal freedom?" he asks his ladylove, Lula (Laura Dern) after she picks him up from prison and tosses him his beloved snakeskin. "About 50,000 times," she coos.
9. Marge Gunderson (Frances McDormand), Fargo (1996)
It could be the accent, or the extreme state of pregnancy, but there's something about the no-nonsense Minnesota police chief Marge (Oscar winner McDormand) as she calmly unravels the kidnapping-blackmail scheme gone wrong that gets under your skin. Despite the increasing absurdity and brutality she encounters, she never loses her nerve or her smile.
10. Mike (River Phoenix), My Own Private Idaho (1991)
In this indie gem from Gus Van Sant portraying the complex inner life of hustlers in the Northwest, River Phoenix—in one of his final roles—exquisitely inhabits a gay narcoleptic street kid with the soul of a poet and a mission to find his long-lost mom.
Still need more offbeat characters from the '90s? Check out Shine starring Geoffrey Rush on SundanceTV.