Crazy Good! The Top 10 Movie Meltdowns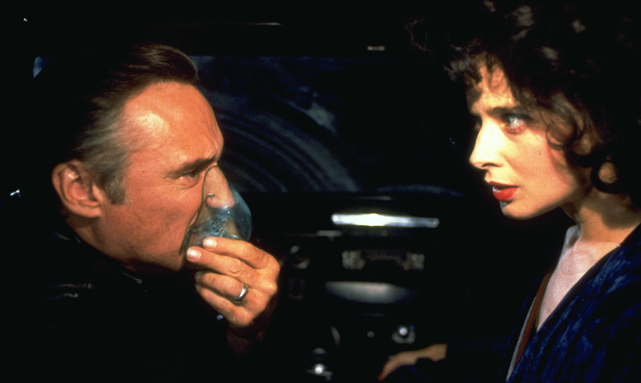 One of the most enjoyable things about movie-watching is that moment when a beloved character loses his/her crackers, even if just for a moment, showing us a whole other shade of person. And as enjoyable as it is for the audience, it's probably lots of fun for the actors, too. A compendium of raging, comic, emotional and/or heartbreaking meltdowns follows…
1. Entire Cast, Blue Velvet (1986)
As for the best meltdown in this film, take your pick! In the surreal world of David Lynch, every single character seems to be at a different point in his/her own personal undoing, as everyone's hold on reality becomes increasingly looser. Blue Velvet is the epitome of "on the edge." As with most of Lynch's work, this can be considered an exploration of what happens post-meltdown.
2. Hayley Stark (Ellen Page), Hard Candy (2005)
Hayley gives us one long, brutal but very talky meltdown in Hard Candy, a pressure cooker of a flick that never lets up and always keeps you guessing. After a relentless torture scene (not spoiled here), Hayley continues her ravings and revenge fantasy on the roof, literally driving a bland and listless Patrick Wilson to jump clear off it. Can you blame him?
3. Howard Beale (Peter Finch), Network (1976)
This one features Peter Finch (the other guy besides Heath Ledger to win a posthumous Oscar) as a totally stressed out newscaster who is "mad as hell, and… not gonna take it anymore!" Not only is his definitive meltdown the driving plot point but many a hokey ad campaign has been modeled after it since.
4. Aurora Greenway (Shirley MacLaine), Terms of Endearment (1983)
Toward the end of this James L. Brooks tearjerker, Aurora Greenway goes to see the nurse about getting her cancer-stricken daughter a shot of painkillers. See, "It's past ten. My daughter is in pain. I don't understand why she has to have this pain. All she has to do is hold out until ten, and IT'S PAST TEN! My daughter is in pain, can't you understand that! GIVE MY DAUGHTER THE SHOT!" Suffice it to say, the nurse goes and gives her daughter (Debra Winger) the injection.
5. Pvt. Hudson (Bill Paxton), Aliens (1986)
Providing the only slight comic respite in James Cameron's taut, brilliant masterpiece of a sequel, Bill Paxton plays a whimpering, simpering mess of a space marine, who starts freaking out about their "predicament" on an alien-infested planet almost at the get-go. He never lets up, even after getting slapped in the face and yelled at by the rest of the calm and collected military crew. Inexplicably, his bravery only comes out at the very end of his life, just before the floor is literally ripped out from under him.
6. Dwayne (Paul Dano), Little Miss Sunshine (2006)
When the willfully mute Dwayne learns of his colorblindness, all hell breaks loose: pounding on the walls and roof of a minibus, running down a hill on the side of a highway, maniacal yelling and collapsing into a heaving mess. As Dwayne's grand plan for escape to the air force is dashed, the scene perfectly captures that moment when a child realizes life doesn't always go as planned, and how you can't put all your eggs in just one basket.
7. Evelyn Mulwray (Faye Dunaway), Chinatown (1974)
For anyone who hasn't seen this remarkable Roman Polanski classic, STOP READING: The narrative twist is one for the record books. Evelyn's legendary meltdown, crying "She's my sister and my daughter!" as Jake Gittes (Nicholson) slaps her repeatedly, reveals a whole layer that you never saw coming, and what an icky layer it is.
8. Aura (Lena Dunham), Tiny Furniture (2010)
In the strongest scene from Lena Dunham's film Tiny Furniture (and the one most reminiscent of her brilliant HBO series Girls), the chirpy Aura gets into a fight with her mom, martyring herself and generally displaying a grand helplessness to deal with life. Dunham is a master at this, and her performance in this movie can be summed up by the poster's tagline: "Aura would like you to know that she's having a very, very hard time."
9. Ashley (Amy Adams), Junebug (2005)
Perhaps the most unsettling element in Amy Adams' portrayal of Ashley — a very deluded pregnant woman who doesn't care for her unborn baby — is her almost total lack of a meltdown when things go terribly wrong. But in one of her final scenes (after telling her brother-in-law of her intention to name the baby Junebug), her veneer does crack and the emotion that comes forth is very raw. Of course, she soon puts a cap right back on it.
10. Miles (Paul Giamatti), Sideways (2004)
Talk about being a wine enthusiast. In a hilarious mini flare-up of rage, the manic Miles warns his friend (Thomas Haden Church) that he is "NOT drinking any f***-ing merlot!" Sure, Miles is partial to pinot noir, but seriously, is merlot really that bad?
Click here for the full on-air schedule for Blue Velvet on SundanceTV.