Top 10 Movie Gangsters From Real Life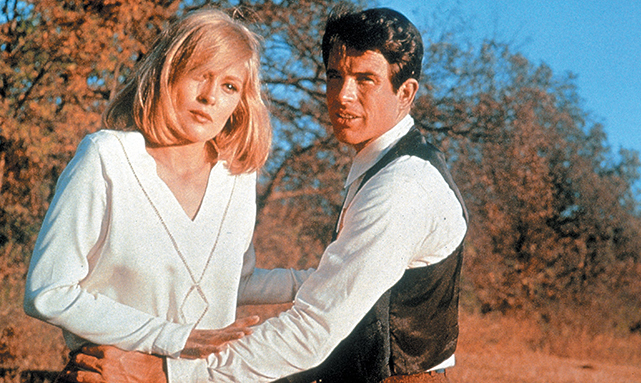 Where would the cinema world be without gangsters? The gun-blazing standoffs, ballsy bank stickups, mobster massacres … They've all contributed to some of the biggest moments in movie history. But there's a special subset of the genre that blurs fantasy and reality, those flicks that portray the bigger-than-life gangsters who were real. Here are ten great big screen gangsters who gained infamy in the real world before the celluloid one.
1. Al Capone (Robert De Niro), The Untouchables (1987)
In his unforgettable portrayal of Chicago mob boss Capone, De Niro walks loudly and carries a big stick. Well, a baseball bat. There's not much subtlety in the performance but what do you expect? Brian De Palma's G-men thriller, written by David Mamet, is full of  bombast—c'mon, he even recreates film scholar fave The Battleship Potemkin with nary a wink in sight. Kevin Costner takes the lead role of Eliot Ness, Sean Connery won the Oscar, but De Niro's intensity is what you'll remember.
2. Frank Lucas (Denzel Washington), American Gangster (2007) 
Brilliant drug kingpin Lucas gets the epic treatment from director Ridley Scott in this crime saga that's as good as any of Scott's other modern classics. American Gangster tracks Lucas' ascension to power as a 1970s heroin hustler who bypassed the middle-distribution process by going right to the source: Asia. As the blindly ambitious drug entrepreneur, Washington brings the confident gait and comfortable swagger he's flaunted in previous hero roles to this flawed anti-hero.
3. John Dillinger (Warren Oates), Dillinger (1973) 
Warren Oates could have spent his career enjoying badass movie cred just for playing in Sam Peckinpah's The Wild Bunch. But the snarling actor upped his tough-guy ante in writer-director John Milius' take on the famed 1930s bank robber Dillinger. Milius gives Dillinger an aggressively indie style – Dillinger first appears from a bank teller's point-of-view – as he borrows from a range of movies, from The Great Train Robbery to Bonnie and Clyde. This is a real showcase for Oates' acting and his affection for Milius' crackling dialogue.
4. Henry Hill (Ray Liotta), Goodfellas (1990) 
He lived the mob life for decades, turned on his own people, and became an indispensable part of American mafia lore. He was Henry Hill, a tough mover and shaker, a "goodfella" who could never "get made." In arguably Martin Scorsese's most beloved pic, Liotta is a force of nature as Hill, turning from reasonable street-smart charmer to drug-addled paranoid. Later in life, Hill was a  semi-regular guest on The Howard Stern Show, having become the schnook he feared he might at the end of Scorsese's masterpiece.
5. Joe Pistone (Johnny Depp), Donnie Brasco (1997) 
Depp has been known to effectively morph into fantastical characters – from Edward Scissorhands to Willy Wonka – but his "deep cover" portrayal of FBI undercover agent Pistone is one of his most exciting achievements. As seen In Mike Newell's 1997 film, Pistone spends years inside the NYC mob, ultimately losing his identity. Depp makes the transformation subtly tragic, giving up an aging mob soldier (Al Pacino, in the most unlikely gangster role of his life) and realizing he's been a bad guy himself for so long, it's probably his only reality.
6. John Dillinger (Johnny Depp), Public Enemies (2009) 
10 years later, Depp was playing a gangster again — this time John Dillinger in this flick directed by Michael Mann, no stranger to crime pics himself (Manhunter, Heat) or biopics (The Insider).Once again, Depp's performance received singular praise. To quote Roger Ebert: "For once an actor playing a gangster does not seem to base his performance on movies he has seen." Not too bad for an actor who has actually starred in crime pics of note.
7. Bonnie Parker and Clyde Barrow (Faye Dunaway and Warren Beatty), Bonnie and Clyde (1967) 
As the legendary Depression-era crime couple, Beatty and Dunaway are sexy and spontaneous, looking like Hollywood stars and acting like a revolution in the making. And that's exactly what director Arthur Penn's classic film signified, an upheaval of the long-standing studio system by films that reflected the anger and spirit of the late 1960s. Nominated for 10 Oscars, Bonnie and Clyde would open the door for Easy Rider and other counter-culture classics—and introduce audiences to stylized, unflinching violence for the Vietnam War era.
8. Sam Rothstein (Robert De Niro), Casino (1995) 
It's widely understood that the bookmaker De Niro plays in Scorsese's Las Vegas history is based on real-life sports gambler Lefty Rosenthal. While Casino relies on an incendiary Joe Pesci to fulfill the sociopathic mobster role, De Niro creates a quieter character whose downfall is his obsession with a woman (Sharon Stone). De Niro knows how to bring dangerous flaws to a powerful character (Raging Bull) and here we both despise him and feel for him. You know that car explosion that bookends the film? It was based on an assassination attempt on the real Frank Rosenthal in 1982. The result you see in the movie was true. Talk about "untouchable."
9. George Kelly (Charles Bronson), Machine-Gun Kelly (1958) 
Bronson. The name alone triggers images of a tough guy, brow furrowed, pointing a gun at some unsuspecting bastard who has it coming. But long before the actor played a NYC street vigilante in Death Wish, he got his first starring role as bank robber George "Machine Gun" Kelly, in this 1958 Roger Corman-directed black-and-white bio. The clean-shaven, square-jawed Bronson looks like an earlier generation's Josh Brolin, and he gets some early firing-range practice by shooting up banks instead of sleazebags.
10. Al Capone (Rod Steiger),  Al Capone (1959) 
Robert De Niro may have created the most memorable big-screen impression of Capone in The Untouchables, but Rod Steiger took on the infamous gangster first. In this straight-ahead biopic, Steiger plays the Chicago crime lord as a hefty personality, from his time as Prohibition-era King to his takedown by the FBI. With audience tastes more sophisticated than five decades ago, Steiger's performance looms large nowadays but it also commands the movie, and sets a precedent for the actor's diverse resume as a big-screen bad guy.
Author: Norm Schrager
Click here for a full on-air schedule for Bonnie and Clyde on SundanceTV.