10 Truly Terrifying Stephen King Fright Flicks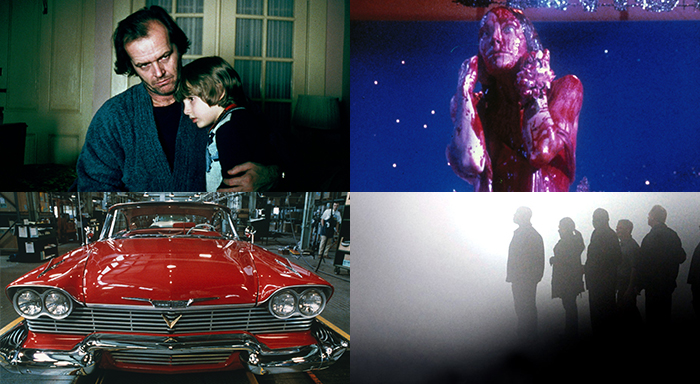 What makes Stephen King movies so scary is how normal their characters can seem at first. They're writers and doctors, moms and dads, whose lives suddenly take a twisted turn which transforms the familiar into something freakishly frightening. This month, SundanceTV is airing some of King's creepiest — THE SHINING, CARRIE, CHRISTINE, and CHILDREN OF THE CORN. Below is a top ten list of the horror master's best.
1. Carrie (1976)
Don't mess with a teenage outcast. Not at the prom. Not when that girl has telekinetic powers and a religious-fanatic for a mother. Poor Carrie (Sissy Spacek) fights her inner demons until her peers drive her to a retributive anger that's even messier than high school itself.
2. The Shining (1980)
Few films capture a sense of menace equal to that in Stanley Kubrick's THE SHINING. Sublimely grotesque with a frenetic performance by Jack Nicholson as a writer descending into madness make this the most artful horror pic around.
3. Christine (1983)
Nothing gets between a teenager and his car—especially when that car is a homicidal cherry-red Plymouth Fury. CHRISTINE makes you wary of vindictive inanimate objects and gives you pause when someone is obsessively tinkering over a lemon.
4. Cujo (1983)
It's hard to fathom a big ol' cuddly St. Bernard as a slobbery, snarling killer. And that's exactly what makes CUJO so horrifying. Suddenly one family's four-legged friend is their greatest fear. Bad dog, indeed.
5. The Dead Zone (1983)
A gift can be a curse. Need proof? Johnny (Christopher Walken) awakens from a coma with the ability to predict the future in this David Cronenberg pic. How does a man who never asked for a seer's talent deal with its moral obligations? The answer is terrifying.
6. Children of the Corn (1984)
If the sight of a corn maze gives you chills, chances are this movie is the reason why. King explores the less innocent side of child psychology in his brutal tale of a murderous religious cult that sacrifices adults to He Who Walks Behind the Rows.
7. Pet Sematary (1988)
You can bet there will be consequences when a heartbroken dad tries to reanimate the dead. While King himself has a cameo as a minister, the real scene-stealer in PET SEMATARY is that walking bag of bones Zelda. RIP.
8. Misery (1990)
Arguably King's most warped leading lady, Annie Wilkes (Kathy Bates) is the self-proclaimed "Number One Fan" of author Paul Sheldon (James Caan). The unimaginable lengths she'll go to in keeping him with her will leave you hobbled by horror.
9. Dolores Claiborne (1995)
Another Kathy Bates tour de force, this one explores a different kind of derangement. Assisted by her daughter (Jennifer Jason Leigh), Dolores claims innocence in the death of her employer. You may feel trouble ahead but nothing can prepare you for what her husband (David Strathairn) did.
10. The Mist (2007)
Whatever monsters lurk around the corner, they're nowhere near as scary as the desperate people fleeing them. Trapped in a grocery store as a mysterious mist surrounds them, neighbors and friends reveal their true nature. Hell is other people, after all.
Don't miss the Stephen King Double Feature (Christine, The Shining) on SundanceTV, starting Sat., Jun. 25 at 8/7c.