5 kick-ass sports movies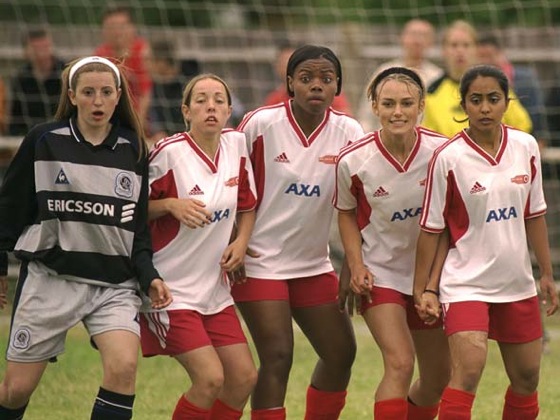 You don't have to be a sports fan to love a great sports flick; the drama, the passion for the game, the struggle and the victories (and losses) make for irresistible movie material. Here are five of our favorite kick-ass sports movies any film buff will love — no matter how you feel about what happens in the ring… or the field… or the court…
BEND IT LIKE BECKHAM
It's hard not to be swept up in the girl-power appeal of BEND IT LIKE BECKHAM, airing Sunday at 10P on Sundance Channel with encores next week. It's a feel-good story that manages to touch on friendship, family and managing to balance your own dreams with your family's expectations, starring then-up-and-comers Parminder Nagra (ER), Jonathan Rhys Meyers (MATCH POINT) and Keira Knightley (PRIDE & PREJUDICE, PIRATES OF THE CARIBBEAN, et. al.).
The title (as you may or may not know) of this "football" movie (a.k.a. what we Americans call "soccer") refers to a kick term and a certain handsome star of the sport.
HOOP DREAMS
What began as research for a PBS special turned into a years-long look at the families of two inner-city Chicago kids, the prep school they're recruited to and the sport they hope will change their lives.
The 1994 Sundance Film Festival Audience Award winner wasn't just a great sports movie: It changed the way we look at modern American life — and cemented the mainstream appeal of documentaries.
BULL DURHAM
It's a remarkably intimate look at Minor League Baseball, but BULL DURHAM is also about unfulfilled dreams, the random good fortune of great talent and, well, shamelessly hot sex. So, yeah, quite a lot to recommend it.
Remember when Kevin Costner was hot stuff? No? This will remind you. Oh, and there's the young Tim Robbins pitching in a garter belt. And Susan Sarandon — don't even get us started. Plus, it's got a secretly feminist subtext! (No, really.)
THE NATURAL
Starring our boss, Robert Redford, as a seemingly washed-up baseball player who proves to himself (and everyone else) that he's one of the greatest to ever play the game.
THE NATURAL boasts some of the most memorable sports-movie scenes ever — including that stadium light-shattering hit — as well as a now-iconic soundtrack.
RAGING BULL
Boxing is brutal. And sometimes, brutal men excel at the sport — as was the case for Jake LaMotta, the real boxing champ played by Robert De Niro in this Oscar-winning role. Beautifully shot and painfully realistic in its violence, RAGING BULL is a masterpiece of cinematography and storytelling.
Martin Scorsese created an indelible impression of a champion fighter in the ring and the turmoil that follows him home. But what makes it one of the best of all time is his unflattering look at LaMotta's life afterward…
So many honorable mentions — here are just a few: THE WRESTLER, HOOSIERS, RUDY, CHARIOTS OF FIRE, HEAVEN CAN WAIT, MIRACLE. What's your favorite kick-ass sports movie?
Photo credit: Fox Searchlight Pictures