Transverse Temporal Gyrus: A Psychedelic Evening with Animal Collective and Danny Perez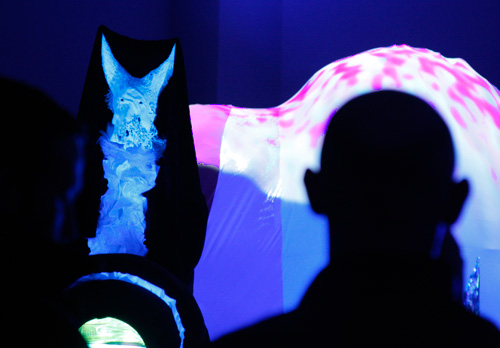 Transverse Temporal Gyrus at The Guggenheim. Photo credit: Celia Quinnette
Upon entering the psychedelic bat cave that was Transverse Temporal Gyrus (the latest installation at The Guggenheim from Animal Collective and film artist Danny Perez), you were immediately bathed in a surreal environment of swirling sound and floating images.  The museum was abuzz last night as fans crowded in for this special one-day collaborative exhibit.  Selling out almost instantly, The Guggenheim had to add an earlier show to accommodate the spiked interest.
Like moths to flames, people gathered around, intrigued by the obscure and fantastical synergy, which evoked ancient mystical beasts from outer dimensions. Animal Collective's sound collage ebbed and flowed, peaking at best as head-bobbing pseudo-songs. The sounds never built up to the layers of intricate danceable beats that Animal Collective fans are used to, which would explain why so many left disappointed. In fact, within 45 minutes time, the museum crowd diminished greatly, making it much easier to walk around and enjoy the space. It certainly weeded out the whiners expecting a different kind of performance. However, what those people blind-sightedly missed was how fantastically well the aural and visual world succeeded. The people who stuck around easily became lost in the collage, drifting in and out of conversations, staring into the colorful chasm.
Animal Collective is an ever-evolving organism. They're constantly building on their own creations and exploring new mediums, and last night was no exception. Each of their albums has its own breath and caters to a different set of brain cells, enveloping a wider and wider audience along the way. Since the release of Merriwether Post Pavilion last winter, the biggest of their albums to date, Animal Collective has indulged in making their live performances all about the experience as a whole. Their sets intertwine with pulsating rhythms and explosions of sound, ultimately leaving the crowd in a hazy rubble of contentment. The atmosphere created for Transverse Temporal Gyrus was certainly down-tempo, but held true to their exploration of site-specific composition.
Danny Perez, contributing video artist and director of ODDSAC, could be spotted messing with his visual projections and chatting with friends and fans. It is unquestionably a great week for him — the New York premiere of ODDSAC and a show at the Guggenheim? Not bad, Mr. Perez. Not to mention the ODDSAC premiere out at the Sundance Film Festival in January. His work certainly speaks to a younger age and particular mindset. At the festival premiere, those unfamiliar with Animal Collective and Danny Perez walked out of ODDSAC disoriented and possibly annoyed, unable to process the hyper-active cuts and campy tripped-out horror visuals. Danny's frenetic creations also make up the live visuals for Animal Collective member Panda Bear's solo tours, as well as for the noise band Black Dice. With this kind of expanding repertoire, the Guggenheim is yet another notch in his belt. Can't wait to see what this dude throws at us next.
Stationed at the center of the Guggenheim were the primary subjects of the exhibit, adorned in papier-mâché costumes. Before leaving, jokes were made about how hot and terrifying it would be to be sporting those. "Wouldn't it be funny if Animal Collective were actually in those costumes?" We laughed, but little did we know — Avey Tare, Geologist and Deakin were in fact these very subjects orchestrating their own creation.